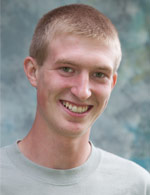 A first go at the Iditarod is an experience that every musher has to overcome in his or her Iditarod mushing career.  Although they have trained for it and raced several races before each race experience is always different.  Travis Beals is no exception to this first Iditarod racing state of mind.
Travis is a rookie to the Iditarod this year.  Although a rookie to this race, he's no rookie to the sport. He's been around the block with dogs before.  Starting at a young age, his entire life has been devoted to working with dogs.  The task of working with dogs is no easy one, as any race follower will know.  Having a dog as a pet and working with Iditarod dogs that are the elite athletes in the sport has its differences.  These dogs that race are exceptional, and not only does Travis have confidence in this team, but the dogs have their own level of confidence in themselves.  Beals has been racing JR races since he was 14 and each time he raced, he learned something about racing and himself that he put forth in his next time on the trail.  This confidence that he and the dogs develops comes from each attempt at a race and each journey made.  The journeys are the physical ones but also the mental journey and race that a musher has to make in his mind. 
Without dogs, a musher would not be a musher.  Every musher has their own routine to care for dogs, train them, and to treat them like the athletes that they are.  Summer is a time in Alaska where training dogs is more difficult due to the lack of snow.  However, every musher and dog must do something to keep his or her shape and fitness up.  During the summer Beals, like many other mushers, trains when he can. He is from Seward where the weather sometimes gets cold enough to train.  A musher can't rely on the weather to determine their training schedule so he has to come up with other ways to keep the dogs fit. 
Summer time is tourist time in Alaska and thousands of people flock to this state to see what Alaska has to offer.  In the true fashion of other mushers, Travis runs a tour operation during the summer out of his hometown of Seward at Turning Heads Kennel.  Along with tours of his kennel and facilities, he also gives rides to eager tourists what want the mushing experience.  Many tourists also want to learn about mushing as they take the tour so Beals provides educational sessions as well. 
Free time is a concept most mushers don't always have because owning dogs is a full time job.  While many athletes have the luxuries of taking vacations and leaving their sport behind,, there just isn't a big option for that in the sport of dogsledding.  Beals is an athlete, just as his dogs are, although his training regimen consists of daily routines associated with the upkeep of 40 dogs.
His dogs, as well, need training otherwise they would not be what they are today, athletes.  A training schedule for dogs is pretty much a year round concept.  The summer tours are a big part in the socializing of the dogs and keeping them up to speed on how to mush.  Once September comes along,  it is time to start easing into the training routine a little bit harder.  A simple four or five-mile run with each team is a good start.  Next comes a five to six-mile run and then keep adding miles over the next months until the team is where they need to be for the big day on the Iditarod 2013.  Along the way, Beals will also run some smaller races of around 300 miles or so to get his dogs into the long-range state of mind.
The training and dogs at Beals' Kennel is going to be what helps this team conquer its very first Iditarod and see how this game is played.   It's the ultimate chance to figure out how things are played on the big scale and hopefully a great jumpstart to a long line of races in his Iditarod career. 
Travis is no stranger to awards either.  In his short mushing career he has received much attention and acclaim for his mushing.  In 2010 he was awarded the 2010 Humanitarian Award on the Tustumina 200.    He has also placed 3rd in the Northern Lights 300 and 6th in the Tahquamenon Country Sled Dog Race over a 300-mile course in 2010.  One of the highest places received to date was 2nd in the 2009 JR Iditarod. 
Everyone has goals in life whether they are short term or long term.  Travis Beals has established some goals that he is hoping to achieve this year in the 2013 Iditarod.  Every musher hopes to finish in the top of the pack, but Beals has some other goals in mind.  A 10-day race is a time goal.  He would like to reach the finish line of the race in his very first attempt in this time frame.  It is not the fastest time by any means but it's a great goal to have set for one's self.  Remaining highly competitive is what he also hopes to achieve this year.  Sticking with the race and not giving up, and passing some people along the way will keep this competitive spirit going.  As a rookie this year in the race, he has a high hope that with his skill he may even be named the "Rookie of the Year".  The ultimate and most important goal any musher has is to reach Nome.
As Travis Beals starts his Iditarod career in this year's 2013 race, we all hope the best for him and hope that he can attain his goals with racing and personal bests.  With his own confidence, perseverance, and determination, Beals will finish this year's race successful and in great condition as the first stepping-stone to being an elite Iditarod musher.
By Josh Divoky, Iditarod Educational Journalist