Featured speaker at the Midwest Musher Symposium and Teacher's Conference in the UP of Michigan was Official Iditarod Photographer, Jeff Schultz. Schultz, who resides in Anchorage, has been on the Iditarod Trail taking pictures since 1981. Check out the archives of Iditarod and you'll soon realize that he's been on the trail more times than any musher except Rick Swenson. Swenson has participated in 36 races. Martin Buser has 32 finishes with no scratches. DeeDee Jonrowe will start her 34th Iditarod in 2016. There are two family dynasties that Schultz can't top (yet), the Redingtons (Joe Sr., Joee Jr., Raymie, Ray Jr., and Ryan) have participated in fifty-five races and the Mackey family (Dick and sons Rick, Lance and Jason) has forty-nine to its credit.
Jeff took his first look through a single lens reflex camera in 7th grade. A couple of years later he bought one. Not long after that he read a book about a guy who went to Alaska, built his own cabin and lived off the land. That became Jeff's focus. He was cooking at a Sizzler Steak House in his home state of California. Schultz wrote the manager of Sizzlers in Anchorage, asking about a job. The manager threw the letter in the trash but an assistant manage came along and pulled it out. Schultz and the assistant wrote back and forth. The assistant told Jeff he'd have a job if he ever found his way to the Last Frontier.
Once in Alaska, young Schultz was looking for the right opportunity to get that one big photo that would launch his career, "If I could just photograph a famous Alaskan, my career would take off." By chance Schultz met Joe Redington Sr. at a benefit concert. Jeff wrote Redington a letter asking, "Can I take your picture." Joe wrote back saying, "Sure, come on up." That simple request had great results.
Eventually Jeff took some photos of Joe with his dog team with Denali in the background. Published in the Anchorage newspaper, the photo launched his career and netted him an invitation from Redington to shoot Iditarod. Initially Schultz, with only $500 in his pocket to pay for gas and oil, secured his own pilot. His funds ran out halfway down the trail. Schultz went back to Anchorage and took a commercial flight to Nome to capture the finish. He gave the images to Iditarod for their use. Jeff was invited to shoot the next race but this time at Iditarod's expense and with the title of "Official Iditarod Photographer."
About his work as the official Iditarod photographer Schultz says, "I have no job description. I shoot just about everything I possibly can. I've been on a snowmachine for hours in sub-zero temperatures, then laying on my belly on snow and ice, waiting for the sun to get in the right position, a dog team to come through and the light conditions to be favorable to get the shot that I envision. I shoot dogs, volunteers, and the interaction between mushers and dogs. The best part is capturing the beauty and romantic aspects. I love the checkpoints, I love the people and I really like being out in the middle of the trial in the middle of nowhere." Those who see him work on the trail, myself included, describe him as tireless, driven and tenacious in his quest for the perfect shot.
What's in Jeff's bible for photography in general and Iditarod specifically? Photography is art and science. Follow the rule of thirds and avoid placing the subject dead center. Make room for the subject to move when composing the photo. Separate and differentiate the subject from the background. Landscape photos don't need much sky but if the sky is beautiful, make it all about the sky. Always carry extra batteries and keep them warm. When shooting outside in cold weather, leave the camera outside all day. Bringing a cold soaked camera into a warm building will cause condensation. When the day is done remove the memory card and battery, seal the camera in a plastic bag, then bring it inside and place it in the warmest part of the room.
With three and a half decades of shooting Iditarod, Jeff has scads of experiences and masses of photos to share. He's done exactly that in "Chasing Dogs," the most recent of his five published books about Iditarod. The incredible photos and narrative comprising the 170-page book published in 2014 lands the reader on the trail from anywhere on earth without requiring the purchase of a plane ticket, hiring a bush pilot or dressing for minus fifty degrees. It's a must read for dog lovers, Iditarod fans and folks, who like Schultz, once dreamed of building a log cabin in Alaska and living off the land.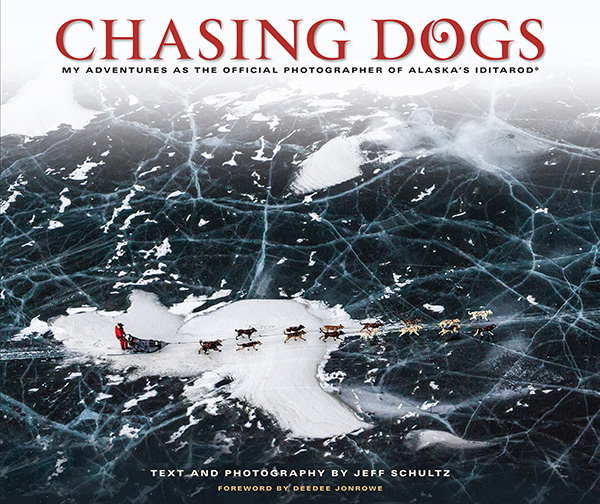 Schultz, along with photographers Jodi Overstreet and Dan Bailey, has formed Through the Lens – Alaska. The company offers treks with photo instruction throughout Alaska. Day tours range from a guided photo walk through downtown Anchorage designed to discover historical Anchorage and enhance photographic skills to the Sunset Photo Safari or a Day with the Bears. They also sponsor multi-day treks to the most incredible and beautiful places in Alaska including Winter Lake Lodge and Camp Denali in Denali National Park. Having been on more than one of the treks led by Schultz, I can say his teaching matches his camera skills – excellent.
What calls Jeff to come back to the Iditarod trail year after year, even after a plane crash that could have claimed his life? It's a race fan that says, "Wow, without you I wouldn't be able to see the race."