by Terrie Hanke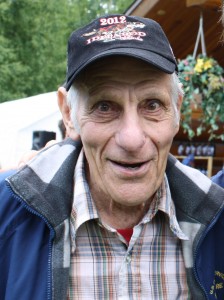 Iditarod has many legendary figures. Most have stood on sled runners and coached dog teams from Fourth Avenue in Anchorage to Front Street in Nome. Joe Delia has never run a dog team in the Last Great Race but his contributions to the race were instrumental in the establishment and success of the race and have elevated him to a position of legendary prominence in the Iditarod family. The man who defined Skwentna, Alaska passed away on May 1st at the age of 84. Family, friends and all who had the good fortune of making his acquaintance will miss Joe.
Joe was born and raised in Missouri. He was a tall lanky kid and played a little high school football there. With his height, speed and agility he was perfect for the position of wide receiver. After getting tackled too many times by guys that out weighed him by at least half, Joe decided there wasn't any future in football. He must have felt the same about Missouri in general. At the young age of 18 he sought a better way of life, a life with a future, and headed to Alaska. He made his way north and west to Seattle and then to the Canadian border. His dream nearly ended there when he was turned back not once but twice as a vagrant. Finding work on a ship heading from Seattle to Ketchikan, Joe finally arrived on the Last Frontier, his future.
As he ate a hearty meal inside the Skwentna Outback cabin on the night before the 2006 Iditarod, Joe recounted the story of how he ended up homesteading five acres on the high bank of the Skwentna River. Stories he read in Boy's Life Magazine as a youngster inspired him to head to Alaska after high school. Once in Alaska, a couple of old timers took him under their wings. Be it not for those fellows who recognized a hard worker and quick study when they saw one, Joe might have died in the woods of a rookie mistake or at the very least never found his way to Skwentna.
In 1948, the hard working and eager to learn Delia secured a job with one of those old timers, Max Shellabarger, who'd been in the Skwentna/Yentna River area since the early 1920's. His job would be to help run a trap line harvesting beaver, lynx, marten, mink, muskrat, otter and wolf. Well before the advent of snow machines, Delia's mode of transportation along the 125-mile trapping trail would be dog team and skies. Once he set eyes on the spot where the Outback Cabin and the Post Office currently stand, he resolved to build a place to live there and make a life for himself in the woods. Joe continued to trap, hunt and fish to make a living and put food on the table even as he took on the job of being the Skwentna Postmaster in 1950. Over time Joe became a legend as a woodsman and trapper and when asked would shared his knowledge with other young aspiring woodsmen.
In the early 70's when Joe Redington was dreaming about racing 1,000 miles to Nome, to preserve the place of the sled dog in Alaskan history Joe Delia was still running his trap line. Even though Delia still maintained a team of high-powered incredible voice-command sled dogs, in the interest of time and efficiency, he like many others in Alaska had a new method of transportation, the snowmachine. Norma, Joe's devoted wife of more than 30 years shared the story of how they became involved in Iditarod with Mike Nesper of the Anchorage Daily News. She said, "Joe was out on his snowmachine and come across a couple of guys on skies. Come to find out the two fellows were working with Joe Redington Sr. and Dave Olson on putting in a trail to Nome. Delia liked the idea of a sled dog marathon and agreed to help establish the route from Skwentna to Rainy Pass." Then like today, the trail follows more than a hundred miles of Delia's former trap line. He also offered to host a checkpoint for the race at the Delia home.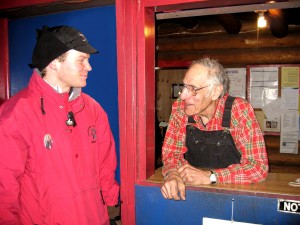 The Delia Homestead has been an Iditarod checkpoint for forty-two years now. At first Joe and Norma did it all with the help of a few locals. Before the race, Joe broke trail and Norma planned the menu and did the shopping. During the race Joe was the checker down on the river and up in the cabin Norma did the cooking and serving. As the couple aged and the demands of the race grew, friends Cyndy and Rob Fritts became chief assistants to Joe and Norma. "Officially" in 1997 after 25 years of serving Iditarod the Delias turned their labor of love over to younger legs and stronger backs. Since that time Cyndy has headed up a half-dozen or more folks known as the Skwentna Sweeties who took over the cleaning, planning, shopping, cooking and serving. Rob was joined by their two sons, Keegan and Zach along with fifteen or so volunteers from Tacoma Washington, known as the Darlings or River Crew, who took over setting up and operating the checkpoint down on the river. Rob Fritts has passed away and Cyndy works the checkpoint from home these days but Keegan is now the Head Checker of the Skwentna Checkpoint. In recent years as the crew, including the Sweeties, Darlings, Judges, Vets and Communications workers all arrive, the total number of Skwentna volunteers ranges between forty and fifty.
As Joe aged and his health began to decline, the couple had to make a tough decision and open a new chapter in their lives. It would be far easier to tackle the golden years living on the road system compared to their beloved homestead in the bush. They announced their decision to move prior to the 2011 race. A larger than usual number of race volunteers and friends gathered in the Outback Cabin on the eve of Iditarod 2011 to celebrate all the years of service given by Joe and Norma to the Last Great Race. The memories that were shared, the stories that were told were a very special and at times tearful tribute to the Delias.
Joe didn't like the idea of moving to town but staying in the bush at a place that was taking all their time, energy and effort to run and demanding far more than they could give didn't make sense anymore. In town they'd be able to care for each other, they'd be closer to family and medical attention and they'd get to see parts of Iditarod they'd never seen before. Delia retired from his postal duties then assisted by friends and family, Joe and Norma made their move prior to the start of the 2012 Iditarod. Several of the Iditarod Air Force pilots landed with their Cessna bush planes to offer transportation for goods and people as they do during the race. One of the pilots said that when it came time to leave Joe insisted on taking his snowshoes, rifle and a pack filled with emergency items along. It's been said you can take the man out of the woods but you can't take the woods out of the man. Nothing truer can be said about Joe Delia.
The same year that Delia officially retired from his Iditarod duties, 1997, the first class was inducted to ADN's Iditarod Hall of Fame. No surprise, Joe Delia was among the first ten inductees. He's been apart of the race since it began, he's served as trail engineer with the other Joe, he's been a trail breaker, he's been a checker and he's been a race judge. Really though his greatest gift to the race was just being Joe. Patient and kind, he made room and time for everyone. He was always ready to help and could fix or troubleshoot anything. Joe was quick to laugh and told captivating stories. Delia entertained others at his own expense sharing his personal blunders, bloopers and conundrums. His stories were punctuated by his smile, soft laugh and the ever-present twinkle in his eyes.
In 2013 Joe and Norma received the Joe Redington Iditarod Trail Race Founders Award. The award was presented to them at the pre-race Musher's Banquet in Anchorage. Although they've been an integral part of Iditarod since before the inaugural race in 1973, it was the first time they had attended the festivities where mushers draw from the mukluk to determine starting positions. Another Iditarod first came in June of 2012 when the Delia's attended the Volunteer Picnic and Musher Signup event at Race Headquarters the last Saturday of June. So Joe, there were a few advantages to living on the road system after all.
The Delia's could have written the book on hospitality, theirs was a very special brand. A person who entered their home as a stranger departed as a friend. Pilots who had to set down in Skwentna due to bad weather were welcomed and fed by the Delias as were folks traveling the river by boat in the summer or snowmachine in the winter. Craig Medrid of the Alaska Dispatch says, "The people who've warmed themselves against bitter cold or blizzard conditions in Delia's home over the years number in the hundreds if not the thousands."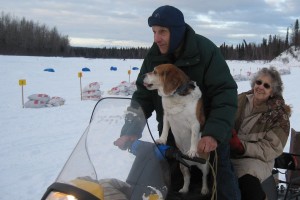 When Iditarod comes around multitudes of volunteers gather as family at the Delia Homestead on the high bank of the Skwentna River. It's like a holiday and it's celebrated by all with hard work, camaraderie, a sense of service to a greater cause and a job well done. When the mushers arrived they'd be greeted and parked or if they were going on through they'd pick up their food bags and go on down the river. If they stayed at Skwentna there'd be an abundance of food and story telling and a spot on the floor of the house for a short nap while their dogs slept on straw down below on the frozen river. It's been that way for forty-two years and because Joe and Norma trained an army of dedicated volunteers, Skwentna as it's been known in the past will continue in the future.
DeeDee Jonrowe says the Delias are very sharing people. While speaking to a Juneau Empire reporter several years ago, Jonrowe recalled her first Iditarod saying, "The first time I ran the race I was just a scared rookie from Bethel. But Joe was very encouraging to me. They knew nothing about me then. But when I walked into their house they made me feel like I was just the person they were waiting to see."
Karen Lawson, after living in Skwentna for only a year wrote, "My husband, Charles, and I were the teachers at Skwentna School in 1999-2000 (the last year the school was open). It was our first year in Alaska and we were so excited about our new adventure. We always looked forward to mail day (Tuesday & Thursday), when we would make the trip across the river to the post office to get the mail. Joe was always there with a smile and a story. He always made us feel welcome and his beagle, Mack, was a playmate for our black lab. Everyone knew trusted, and loved Joe Delia. He was Skwentna to many. Joe and Norma were always kind and helpful and we wish we'd had more time there with them. Joe will be missed by so many."
A plaque with the second verse from chapter thirteen of Hebrews hung above the door of the Delia's Skwentna home for many, many years. "Do not forget to entertain strangers, for by so doing some people have entertained angels without knowing it." That verse seems to be the creed Joe lived by. Joe is now one of those angels and surely he has his snowshoes, rifle and pack close by. Thank you Joe for loving Iditarod and giving so much of yourself to The Last Great Race.