In an effort to bring you the best Iditarod experience yet, we here at the Insider Team have created a great new feature called "Musher Alerts." When you subscribe to be an Iditarod Insider you'll have the option to select up to five of your favorite mushers that you want to track (Free Registered Users can track one musher). Fisrt thing you'll get is a widget on left hand column that displays your mushers and their times. Secondly, you'll get an email alert that tells you when your musher has entered or left a checkpoint.
Once you subscribe and log in,  you'll go to the INSIDER menu and choose MUSHER FAVORITES.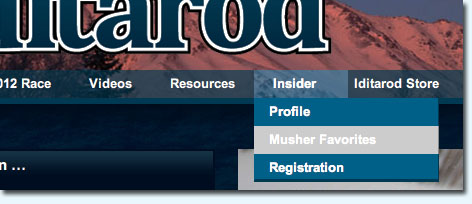 From then it's easy. You'll be able to choose from all the mushers in the field. Each Musher has a number associated with it from one to five. Choose the mushers you want to track.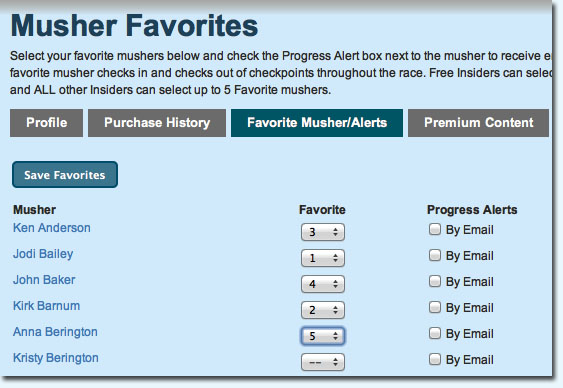 That's it! On the left hand side of the site you'll see a widget that displays just the mushers you've selected and their times. As each mushers checks in and out of checkpoints you'll get email alerts letting you know. So day or night, in the office or at home you can stay informed about what your mushers are doing.We hope you enjoy Musher Tracking and the race!