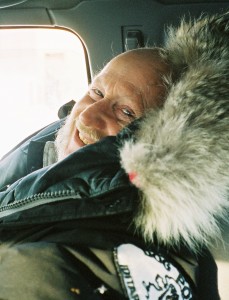 Rodger Roberts, "The Loafer from Ophir", was born on July 25th, 1945 and left us to be with his old leader 'Buddy' on March 25th, 2015.  Loafer lived in Ophir as its only permanent resident from the early 70's through the late 80's, making a living mining for gold, raising dogs and trapping. Though he raced the Iditarod many times he was never competitive; he did it for fun and to enjoy the people along the trail. 
Beyond the 80's he would return to mine in the summers and would be sure to be there to open his place up for the Iron Dog and the Iditarod race in the winters. He was a longtime volunteer, musher, checker, trail breaker, and one of the most colorful people and personalities along the trail.  He spent many years making ganglines, harnesses, and gear for mushers as well as creating a line of nutritional products for sled dogs, Ophir Gold.
A person that once you met him, you would never forget him, he always had a great story and would entertain people for hours. His otter
trail mittens, beaver hat, and his big parka traveled the trail many times with other mushers as he would loan them out to anyone that needed them if they were not prepared. Loafer was passionate about sled dog racing and the Iditarod and dreamed of hitting the jackpot while mining for Gold. This award is in memory of Rodger Roberts, a man who lived the dreams we all wish to do, a man who lived life bringing together the rich traditions of mining for gold and mushing dogs in our great State of Alaska.   
The winner of the First to Ophir Award receives a trophy and $1000 in gold nuggets.