Made it into Shageluk. This was slow going, not because the trail was bad, it actually has a nice firm base to it, but more because its very twisty and windy and a snowmachine can not travel much faster than a dogteam. Not add to that, that Gerd gets stuck every so often and I have to backtrack, than time adds up and it took us full 6 hrs to get over. If Gerd was a dog, I would drop him.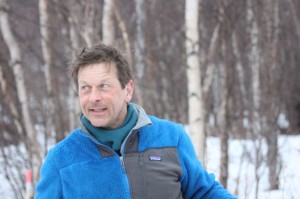 Martin is still in first place. It was a pleasure to watch him in Iditarod, as he was truly upbeat, and so were his dogs. After bedding them down on straw, he dished out some clear cold water which they happily drank. Jim Paulus and Team has done an excellent job in preparing Iditarod for the teams. Oftern teams are parked on the river, right in the wind, but also subject to lots of Airplane noise. This year, the parked the teams in the trees, behind the checkpoint, which makes for very quality rest for the dogs. Teams going through stay on the river and do not disturb the resting Teams. Well done. Often there was no water in this checkpoint neither, but this year it´s first class service, not only is there a water hole, the water is brought in buckets to the mushers! HUGE help. While Martin was hydrating his gang, Sonny Lindner who was parked next to him, was busy doing foot care. One team further over was Lance Mackey´s crew. And Lance had " that Lance look " seizing up everything in Martin´s team.  How did they come in? How was their energy? How ell did they drink the water? Did Marten need to do any immediate vet care… and so on.  I love that look on Lance! Sheer focus!
Short after we left, Aaron Burmeister pulled into the checkpoint. And boy did he make some time.  He made 1.5 hrs on this one run alone on Martin Buser! That is some serious time. And as far as I could tell from tracks on the trail, Martin did not rest. Interesting enough, there was only one straw pile out there and that one was NOT at Don`s Cabin.  Lance, cagey as ever, just camped about 1 mile past it. In case any of the chasing teams would arrive at Don´s he would make the believe that he is going all the way.  Smart move, but also where he rested, it was a lot more protected from the wind as at Don´s.  Mitch´s time of 12.50 to Iditarod is no slouch neither. Jake was a bit slower than Martin. Jake is still driving a full string of 16 dogs, a testament to his great dog care. His team appears energetic, but for some reason is not traveling down the trail as quickly as Aaron or Mitch.  If Aaron rests the same amount of time as Martin, about 5 hrs, he will take of around 6 p.m.  So Martin is 4 hrs ahead of his nearest competitor. That is a comfortable lead, but by no means insurmountable.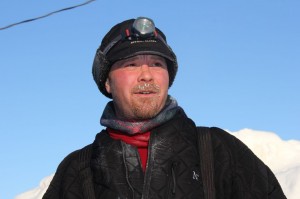 Of course soon after I post this, I get some messages…. what about Nicolas Petit? Don´t you like him??? At the time of the post, he had not arrived in Iditarod. He is there now, and Aaron no longer has had the fastest run. Nicolas just burned up the trail in 10 hrs and 12 Minutes. That is some serious speed! And he is Top 10. A guy to watch!