Iditarod 41 is coming closer. And so are the questions. How are the mushers doing? For many of them, the time leading up to the race is packed full with logistics and work.  And there is a huge difference depending on where each musher lives.
The other day I talked to Pat Moon, who ran a Team of Ed Stielstra in the midnight run on the UP in Michigan. Ed is recovering from a meeting with a stubborn snub line post.  His account here: http://www.natureskennel.com/journals.php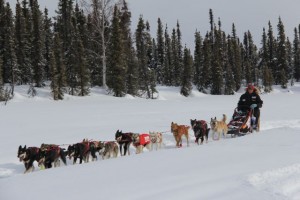 Recovering at home, it gave Pat Moon an unexpected change to run in the Midnight Run race. Despite looking like "Franken-Ed ", the 7 time Iditarod finisher, who has had his highest placing in 2012 with 25th position, he has every intention to do his yearly treck to the great Northland of Alaska. Ed and his handler crew plan to leave Michigan on Friday, so they can drive a whopping 3500 miles in 4 days, to be up north in time for the vet check and EKG blood work. At the same time, some other mushers dogs, like the team of Ray Redington, the grandson of Iditarod Godfather Joe Redington, rest comfortably in their kennel at home in Knik.
Last night at 4 a.m. my cabin door opened and Jessie Royer stopped in for a visit, in true Iditarod musher fashion, being on a time schedule, where day and night time do not really matter. Myself I had just returned from Fairbanks, 30 dogs in tow, and went to bed at 2 a.m. Yes, sleep is highly overrated.  Jessie has been the top finishing female musher for quite a few years, skipping last years race, that distinction went to Aliy Zirkle in her amazing 2nd place finish.  Jessie was on a long nonstop drive from Montana, only 2700 miles, on her way to Fairbanks, for a quick stop at her place to pick up some supplies, to than continue to Anchorage.  The time and energy these mushers put into Iditarod can only be explained with one thing: " Power out of passion ". Of course we started gabbing dog news and strategizing who might do how, till an hour later Jessie disappeared into the dark once again, as she was almost there, " only " had another 600 miles to go.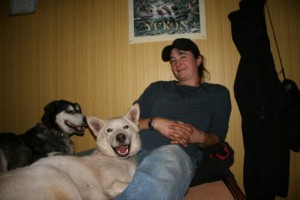 After reading that 5 time ( the one and only )  Iditarod Champion Rick Swenson had pulled out of Iditarod, I stopped in at his place in Two Rivers. Rick was nowhere to be found and over tea his wife Kelly told me his is out training dogs. Nothing " bad " is going on with Rick, he simply felt his stars were not lining up this year. So he made the decision to not run to Nome, which as I saw first hand, still meant he was driving dogs.  Kelly and me spent  an enjoyable hour comparing notes…. Who we would think would finish how? Of course she was interested in my first hand observations from the Yukon Quest Trail, as there are 6 Mushers " doing the double " this year.  Matt Failor, Kelly Griffin, Jake Berkowitz, Brent Sass, Lance Mackey and Allen Moore.  And boy did some of these finish at the opposite spectrum of the final standings. While Lance surprisingly prematurely ended his race in Dawson City, Allen Moore came out on Top winning his first 1000 Mile Race in a hard fought battle with Hugh Neff, who is missing from this years Iditarod lineup. Only time will tell, if this performance will translate into Iditarod. I sure hope for Lance, that is will not. Allen and Aliy have had some stellar performances, not only last year, but it continued throughout this season with Aliy finishing 2nd in the Yukon Quest 300 ( only seconds behind Michelle Phillips ), and in January Allen bagging the Copper Basin 300.  He has won that race many times. Its hard to not notice, that they are on a roll.  Of course there are many others mushers, in the 67 total signed up competitors, who will have a legitimate shot of getting to Nome first. Over the next few days, 
Leading up the race, I will put a few more thoughts together on the different teams. In the meantime, I wish all mushers safe and uneventful travels to Anchorage. Its time to get my snowmachine ready, and soon I will be headed in the same direction.
Happy Armchair Mushing!
Sebastian