I just got off the phone with Libby Riddles, 1985 Iditarod Champion and the first woman to earn that honor.  Libby finished that race in style, also earning the Veterinarian Choice Award, which is sponsored by Alaska Airlines. for the best cared for dogteam, arriving under the burled arch with 13 of the 15 dogs she started with. Matter of fact, she ran her full string all the way to the Coast, for 750 miles, only dropping Stike in Unalakleet and Sister in Elim.  It was Libby´s 4th Iditarod and one of those magic carpet rides, most mushers dream of. After 3 previous Iditarod´s she had a pretty good idea what to expect and finally lot´s of hard work, meticulous preparation and a well managed team all came together. www.libbyriddles.com 
Libby and me talked about this years Rookies who are signed up. Rookie does not equal Rookie though. Some of this years first timers already have a 1000 Mile Yukon Quest finish under their belt, like Paige Drobny, Mike Ellis ( below picture on Eagle Summit ) or Joar Leifseth Ulsom. Others have run Iditarod before, but pulled out on their first attempt, like Josh Cadzow last year in Kaltag. And yet there are mushers, true Rookies, who have never been in a 1000 Mile race, nor have grown up around dogs, like Luan Ramos Marques from Brazil or Cindy Abbott. I mean, how cool is that, a musher from Brazil running 1000 Mile to Nome. I am sure not many of his countrymen have ever stood on the back of a dogsled. Luan is being tutored by Vern Halter, a very accomplished Musher from Willow, same as Cindy Abbott is mentored by non other than 4 time Champion Lance Mackey. So in a sense, even Luan and Cindy have quite a head start. Running a race like Iditarod, the food drop alone is a huge undertaking and it sure helps to have the backing of a musher who has been there and done that, and knows what is true and tried.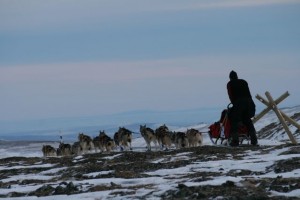 Looking back at 2005 which was my rookie year, having to go to the Rookie meeting in early December was a huge deal and real wake-up call. At the time we were 45 Rookies. That was about double to the teams, which had signed up for that years 1000 Mile Yukon Quest in total. This year for 2013, there are only 13 Rookies, not even a third of those in 2005. Iditarod, matter of fact any dog racing, has become much more expensive and it's a big step for a Rookie, so sign up for the Superbowl of dog mushing. Also, over the past years, the qualification requirements have become stiffer, rightfully so in my opinion. In the earlier days, most mushers used to have dogs " anyhow " and eventually would gravitate towards Iditarod and give it a try. Today, there is mushers, who are relatively new to the sport, yet there are attempting to run a 1000 Miler. To make sure, they at least have some experience, it was a wise decision to ask them to finish a minimum of 750 miles of racing, of which 2 of those races have to be 300 Miles in lengths. Another good idea, was to put in the requirement, that they have to be in the top 75% of the field in their qualification race, thus ensuring a certain level of competitiveness.
Once entered in Iditarod, Rookie meeting behind them, the actual race is next and for a Rookie, there is one distinct honor. The Rookie of the year award!  Last year it was Brent Sass in 13th place. In some races, like the Kusko 300, that award can only go to a musher, who has never finished a 300 mile race before. Iditarod is a bit different, the award goes to a musher who has never finished Iditarod before, even if he has a Quest under his belt, like Brent did.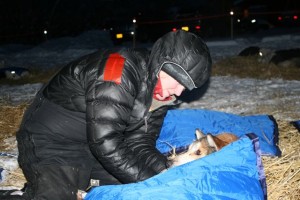 So who are the hopefuls? Paige Drobny ( above picture ) of Squid Acres, has a Quest finish last year and her husband Cody Strathe just finished the Quest 2 weeks ago. They have some nice dogs to pick from. Travis Beals likes to race, so I would not count him out. Mike Ellis, known for superb dogcare for sure will run a nice team, but speed is not quite the virtue of his beautiful Siberian Husky team.  Now let it get windy and ugly and Mike will be right in the mix. Richie Diehl who runs dogs in the Kusko Delta should put on a nice solid race. Josh Cadzow with his Quest experience and having 700 Iditarod miles under his runners from last year too, could be right up there in the mix of top placing rookies.
But my money is on the Norwegian Joar Leifseth Ulsom ( below picture ) , who was the 2nd highest placing Rookie in 6th place in the 2012 Yukon Quest, only 2 places behind 4th place top Rookie Jake Berkowitz. In a bit more than 2 weeks we know, if I guessed right.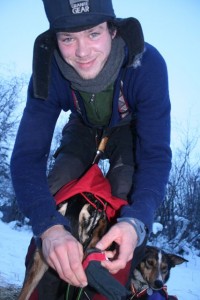 Some other mushers like James Volek run a team of young dogs, in his case out of the kennel of Martin Buser and most likely wil not have a shot at the Rookie trophy. James will have strict " marching orders " from Martin, as Martin´s goal is to give his young dogs trail experience and get as many finishers to Nome as he possible can, so he can pick from that team for next years race. Charley Benja is running a team out of G.B. Jones Kennel in Knik and Louis Ambrose hails from St Michael and is married to Jerrine Austin and thus continues the dog mushing tradition for the family of the late mushing hero Jerry Austin. He is running this years race in honor of his late father in law. Christine Roalofs who is the first musher to pick her starting number on Saturday is hoping to finish her first 1000 Miler, after a scratch in the 2011 Yukon Quest.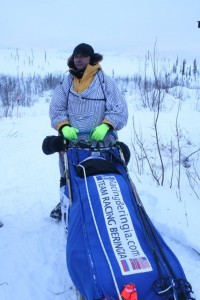 During last years Yukon Quest, I also had the pleasure to watch Michael Telpin ( above picture ) for Chukotka in Russia. Michael hardly spoke any English. He started falling behind the pace early, worse of his traveling partner Nikolai Ettyne scratched early in the race for the well being of his dogs, so Michael was on his own. By Eagle, about 350 miles into the Quest, he transformed from his working-hunting style of running dogs to racing style and although running more than a day behind most other mushers Michael finished the Quest with all 9 dogs he started the race with. That in itself is no small feat. His dogs are very distinct looking, their harnesses are hand made. With Michael normally hunting with them, they are totally keyed into him, watching every move, no words needed, a super well disciplined team. I am glad to see Michael in this years race and for those of you interested please follow him at http://racingberingia.polarhusky.com/team-racing-beringia/ . Joar is part of Team Beringia also.
Happy trails, and save travels to all of this years Rookies.
Sebastian