Jeff arrived in 2nd place. His dogs wanted to visit the church on the way in. But he is not wasting any time. He just wanted to have is bags and declared he is going through. VERY dynamic race! His dogs looked great, some of them loaping in!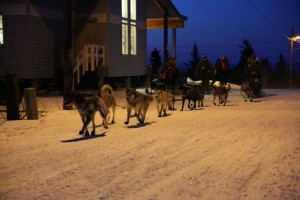 Jeff King coming through Koyuk. Did not stay more than 6 minutes!!!
11 dogs in and out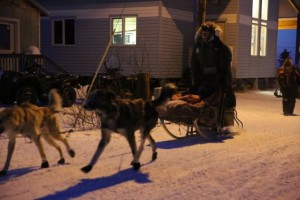 So what might his plan be? GO all the way to Elim? That is a long shot, but also, that would get him into the heat of the day. Maybe Jeff will run till it gets warm, about 1 pm. than pull over through the heat of the day and than continue around 4 p.m? Just guessing here. So let´s get glued to the tracker. If you have not signed up for the tracker yet NOW is the time!
Looking at the times. Jeff did the past run 23 minutes FASTER than Mitch. I wonder what is going through Mitch´s head now, while he is outside feeding his dogs. Those 2 mushers have raced together for many years. They know each other well.