Martin Buser is keeping his top spot. Earlier he was hauling a dog, but more likely to slow him down.  The mushing mortician Scott Janssen  was hot on his heels, followed by a nice looking squad fromo Jodi Bailey. Part of the sign in routine in Yentna is to drop off your bib and also to sign posters. All is well organized and within minutes the mushers are on their way again. Martin only went a few hundred yards out and than parked his team for about 15 minutes to give them a snack.
Many nice teams we were passing on the River, most of them solidly trotting away. Notable Jeff King had only 14 dogs in his team, yet he was still passing teams. Right when we pulled by, a nice photo opportunity presented itself when he passed fellow Iditarod Champion John Baker. The heads of 2 dogs were poking out of Jeff´s sled. one in the caboose and one in the front part of the sled. There is actually quite a few teams driving a longer gangline, than they have team members. I like doing that myself to give the wheel dogs more room to move around, specially on windy trails.
Dee Dee Jonrowe is booking right along, she started bib number 28, but arrived as 10th team into Yentna. Both Mackey brother have been through, Lance still ahead of his brother Jason. Jason is looking more focused than I have seen him in the past.  Lookin…. good!
Yentna Station is a great place to stop. The cabin is full of Iditarod History with countless posters from spanning many decades, signed from hundreds of mushers. AND the FOOD IS SUPERB!!!! Thanks for the great hospitality. Next to me sits Nancy Joshida from North Dakota doing coms and writing down the times, and is busy posting them to the internet. Nancy last ran the Iditarod in 2009…. and as many of us " past " mushers is still addicted and happy to be part of the team. Dan and Jean Gabrzszak have been running Yentna Station for 33 years and counting. Its a slice of haven in the wilderness and favorite stop of in the winter for snowmachiners and dogmushers and in the summer frequented by fishermen.
Well, time to leave and hit the Trail again, Skwentna bound!
Happy trails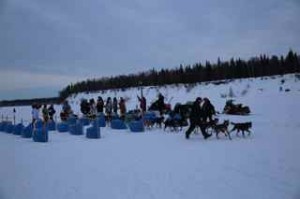 Martin Buser arriving in Yentna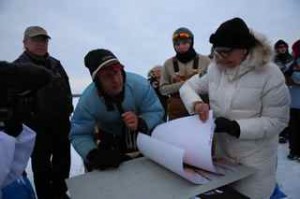 Martin Buser signing in and out, and posters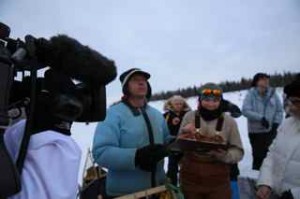 Martin on in the checkpoint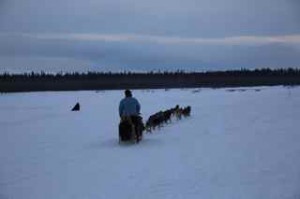 And Martin is off again
Dee Dee coming down Deshka Landing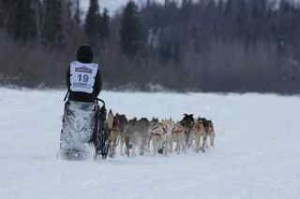 John Baker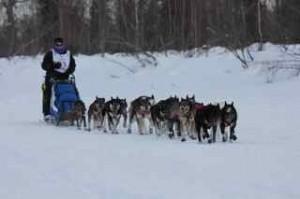 Team Baker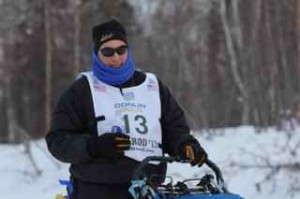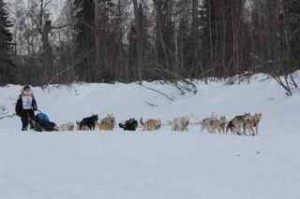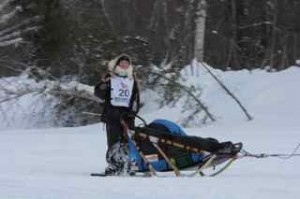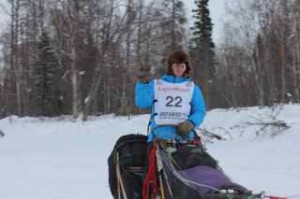 Gerry Willomitzer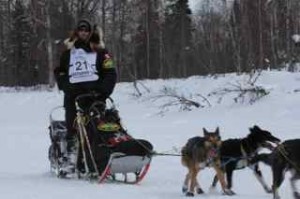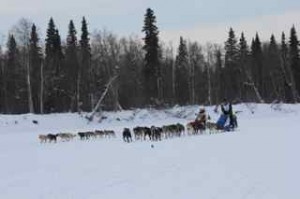 John Baker being passed by Jeff King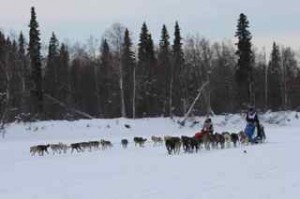 Jeff King Passing John Baker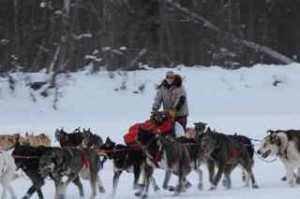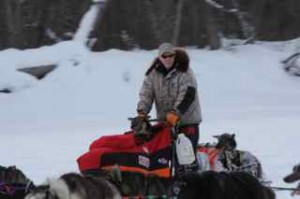 Jeff on the move, with 2 dogs resting in the bag
Yentna Station History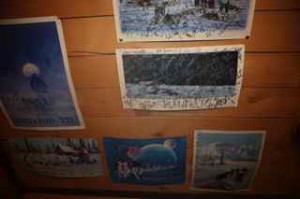 Hootch the mascot, 12 years old