Its busy and buzzing. Not only figuratively speaking. Planes are coming and going. That can be tough for the dogs to rest. People are milling everywhere. 41 teams are out of Finger Lake. 11 have shown up here in Rainy. That means 30 teams are strung out on 32 miles.
The teams arriving here now, are on a very good daytime running schedule, " shutting it down " right before the heat of the day.  Others , instead of pushing here, elect to camp on the trail. While some mushers seem a bit down, and questioning the long push here, like Ray Redington or Kelly Maixner, others like Dee Dee and Michelle Phillips are outright chatty and happy. Michelle is really making a strong point of taking care of her team. She rubs ointment in each foot. EACH FOOT, every stop. She also massages each shoulder. That effors shows in how happy her team is. But its hard on the musher.
Looking at times and places. One Iditarod Champion , John Baker, arrived at 7.21 in Finger Lake, currently in 44th position. The other Iditarod Champion, Martin Buser, arrived 2 checkpoints further ahead in Rohn at 9.58. But even to the mushers coming into Rainy now, he is technically some 7 hrs ahead, with cutting out 2 complete rest stops. Wow. Talking to his wife Kathy, she sure seemed exited. " You gotta try " was her sentiment.
As pictures speak for themselves, here a few more: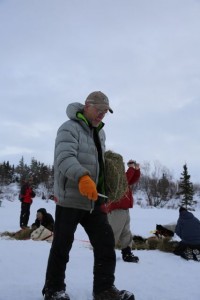 Jeff King and one of his team members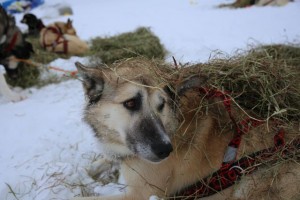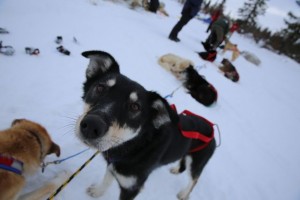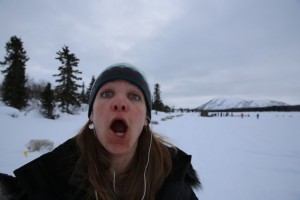 Emily Schwing, surprised by the pace!
Dogs out of Michelle Philips team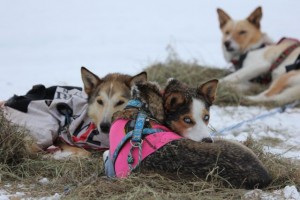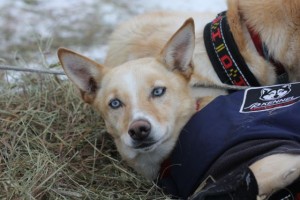 Laurent Dich and one of his guests, Esther from Switzerland. She has been a die hard fan for years, I met her in 2007 in the Grayling checkpoint.