Hello Iditarod Race fans.
This morning kicked off with a brief " Official " meeting of the Race Judges with Race Marshall Mark Nordmann before the Mushers meeting. The Mushers Meeting has a public part, where sponsors present and " goodie bags " are handed out. Topics covered are the race rules, and more specifically what new rules are in place. A new piece of mandatory equipment is having enough dog jackets on the team ( either worn or in the sled ) for each dog.
Another often discussed topic: Some mushers are opting to rest dogs early in the sled, to reduce pulling power. That is a topic which crops up every year, of when and how dogs can be carried. While leaving the starting line on Sunday in Willow, each team can run up to 14 dogs and all need to be in harness, on the towline. Once teams have left the starting chute, they can stop along the trail and give dogs a ride, if they choose to. From then on out, dog can be carried in the sled at any given time, as long as they are ahead of the driver in the sled.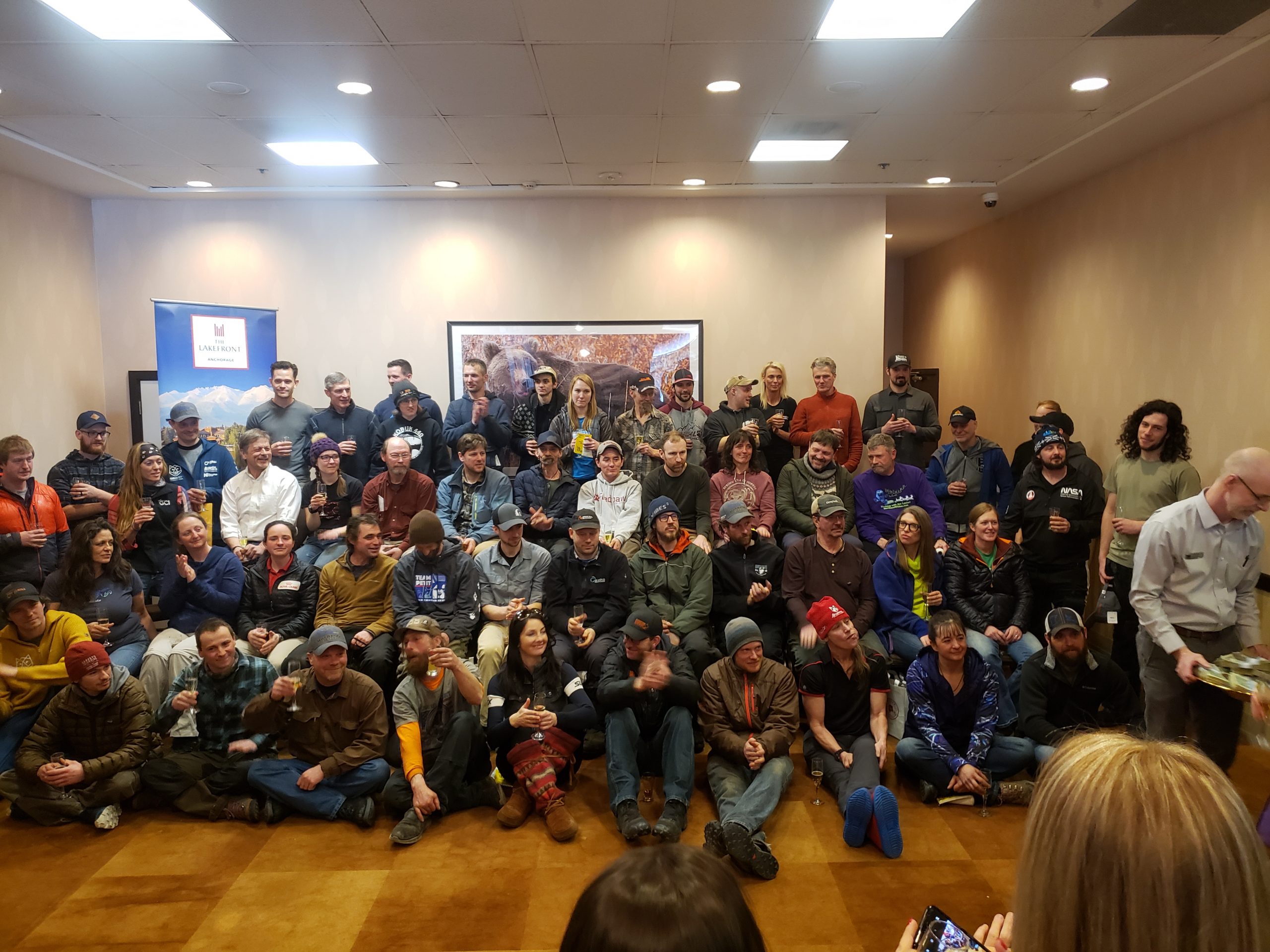 Another big topic, specially this year, is a trail report. With this being a big snow year, many questions were asked. The trail breakers left Big Lake for a 4th time this morning. They keep on having to re-open the same trails, after several feet of new snow fell in the Alaska Range. Putting in ski plane runways for the remote checkpoints like Finger Lake, Rainy Pass and Rohn is also essential, or no planes could land.
In other years, Rohn usually has the opposite problem, of not enough snow. Same counts for the infamous Farewell Burn area, which can be a series of gravel bars, rocks and sticks. Not so in 2020. Snow is deep, even notorious places like the Post Rohn glacier, about 2.5 hrs outside of Rohn. Mushers camping along the trail might not find as many " pullouts " as usual, as in some stretches it is difficult for the trail breaker to get off the trail, even with their super wide track snow machines. Another possible obstacle on the trail can be a lot of moose. With deep snow, they will try to use the established trail. 
Dr. Stu Nelson goes emphasizes on good dog care and goes over certain protocols during his speech. Martin Buser once again explained about the importance of the use for Prilosec ( same medication as used in humans ) to prevent stomach ulcers. Those medications have to be given on en empty stomach, with is easier said than done with sled dogs, as they eat a lot and constantly thought the race. It takes a lot of fuel to stoke their ever burning desire to pull. 
Of course the Ceremonial Start, the associated parking order, is a big topic too. Karl Heidelbach has been in charge of those operations for decades and has it dialed down! He likes to know how many teams are working out of one truck, to plan parking along the busy downtown streets accordingly.
After the annual Mushers Photo in the Lakefront Hotel, Iditariders can finally meet their mushers. Many of them have picked the same Musher for several years. Great friendships are formed! 
Enjoy a few shots from this morning, next up is the Meet and Greet in the Dena'ina Centre on 6th Avenue at 4 p.m. followed by the Mushers Banquet. Game time…. and each step is one step closer to the starting line.