This is almost like last minute getting ready for the starting line. Today was one of those days. It all started innocently when taking out the snowmachine to break a trail on the Takhini River. Although barely a year old, there is over 8000 miles on it and much to my dismay I heard some grinding noises somewhere from the gear box, driveshaft. Not good. Knowing this will not be a quick fix I decided to not oven try to get it fixed in time before Iditarod. Luckily I did get a second machine this winter, but it was not nowhere near set up for long distance travel. So the better part of the day was spend to do all the modifications  and move the luggage boxes from one machine to the next. Of course with me never measuring anything, nothing would fit on the new machine. On the upside it was barely below freezing and I only lost some tools in the snow.
Next up was setting up the Bgan Satellite Unit, so I can access the internet, from pretty much the middle of nowhere, unless there is a mountain right to the southeast. Places like Rohn do not work. Anyhow I got it to work, for about 5 minutes, and unfortunately forgot, that I had another computer logged into my accounts and the second I tried logging in via the Sat-unit, things went ugly, as gmail, facebook, flickr all suspected my account being hacked and the accounts froze or were disabled. Oh boy, that meant a reset of passwords for all, but than iphoto would not synchronize anymore with facebook and it took me a while to figure out how to make that happen again. Fingers crossed,  now at 10 p.m. it seems all working again.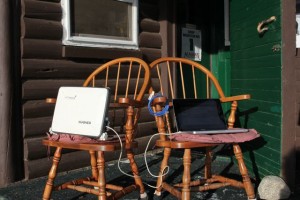 Most mushers I have talked to are currently taking their dogs out for a last long run. Gerry Willomitzer called from his cellphone while doing a 60 mile run, still deciding which dogs to take for the treck to Anchorage. That is a nice problem to have, as it means he has plenty to choose from. Gerry had the company of Aaron Peck another Canadian. Aaron accomplished a top notch showing at the Wyoming Stage Stop race, edging out Buddy Streeper for a 1st place finish, which is no small feat. Is that a sign of how he will do in Iditarod?Most likely not quite, as besides the musher, there is the main factor dog.  How much experience to the dogs have? Racing experience in general, but Iditarod Trail experience in particular. Although  Aaron has a few dogs who have been to Nome with other mushers like Ken Anderson or Adam Ross and he has 5 dogs from his Wyoming team. There is most likely some a few teams out there, who have more Iditarod experience under their belt.  Each musher has different dogs tastes, I personally always preferred larger males, so it was funny to hear that Aaron has 14 males and 2 females, which was always exactly the cut I had, with Saffron and Skunk being the only females. Matter of fact. Skunk was the only intact female on the team, once again Aaron had the same cut, one female being spayed too. Aaron has studied Iditarod times well, and hopes he has learned from his past mistakes. He went as far in training, as to simulate the run and rest schedule to Nikolai. This years Iditarod is an investment into the future for him, as he is hoping for a Top 30 finish and to find out if racing Long Distance is for him.
Gerry Willomitzer s dogs I know well, as I run them on the Glacier Tours during the summer in Juneau. Besides having an income, the training up on the ice is very beneficial. The dogs basically run on snow all year long, with only Sept and October being on bare ground. Gerry commented on that a while back, with the fact how little injuries he has had all winter. Finishing the Top of the World 350 in 2nd place with a full string on 14 dogs, than finishing the Copper Basin 300 also in 2nd place with only dropping one dog. Nome finishers is what his team is shy on, so he signed up for the Norton Sound 450. That race turning around in Shaktoolik because of a blizzard, was the right decision for the welfare of the dogs, but did not give his team the desired effect of a Nome run. He was not alone. Matter of fact, quite a few mushers were not getting the racing miles in they had hoped for, with numerous races being cancelled early season, Like the Sheep Mountain, Knik 200 or Don Bowers. 
Jessie Royer, who usually trains near Fairbanks, had decided to stay down south, and that sure worked in her advantage. Deciding to run 2 teams in the very hilly race to the Sky in Montana, her teams finished 1st and 2nd. Jessie is tough, she finishes strong and talking about her dog, it seems like they are a nice mix of very experienced Nome veterans with a few up and coming younger dogs. I sure enjoyed having some of Jessie's dogs like Tetsa and big boy Recees. Jessie's dogs are also running on the a glacier all summer long. Jessie mentioned to have not that many training miles this winter, but I am sure that is offset by steady summer work.
Another musher I am keeping an eye on is Aaron Burmeister, partly because I ran quite a few of his dogs in 2011, who at the time were gaining their first 1000 Mile experience. By now they have 2 Iditarod's under their belt in 6th place and 4th place and matured another year. He added some very nice dogs of Sven Haltman to his team, and Tony Browning piloted that squad to a very nice 2nd place finish in the Kusko 300. Interestingly looking at the runtimes in that race, the further into that race the team went,, the better were their runtimes.
Ken Anderson is a musher I always enjoy talking dogs with. Soon it is less me asking questions and us more discussing things. And those topics range all over the place form the Quest purse, to us mushers needing to learn to market ourselves, to of course his actual season. Kens first race was the Kusko 300. According to Ken, he never had much luck in the Kusko, this year being no exception, but he was happy with how his dogs looked at the end and how well they all ate. Milewise he sits around 2800, which he also posts on his training logs which are available online on his website. ( www.windycreekkennel.com ) One of his last runs was a 75 mile training run to visit Quest and Iditarod Mushers Jodi Bailey and Dan Kaduce in the White Mountains. That sure is a nice thing in Alaska, to not only run dogs, but to also visit friends at the same time. Ken is known to come finish strong and to be very athletic himself. His highest places are 4th in 2010 and 2008 and time will tell, if he is ready to push the envelope another notch.
Mitch did not run the Kusko this year and instead stayed close to home, winning the Tustumena 200. Best training for racing is racing. But what type of dogs to match for which race is important. Mitch is running a team largely comprised of veterans and a Kusko, although excellent training, is not necessary the best race for that type of a team. I personally loved taking inexperienced dogs to the Kusko, as I was sure they would learn some very important life lessons there, which can be learned nowhere else. 300 Miles on 10hrs of mandatory rest is tough. The winds up and down the Kuskokwim River can be something else. Mitch chose to skip the Kusko with his veteran team. The Tusto has shown that Mitch's dogs have some good speed, as he was chased by some pretty quick teams with Ray Redington, Jeff King and Paul Gebhardt right on his heels.  Jeff winning the Kusko 300 says all we need to know about his team. Paul and Ray have been knocking on the door of a Top Iditarod finish. Once again it is a very deep field for the 41st Edition of the great race to Nome.
All for tonight! Happy trails. Sorry for the typos….