Game day is here. Dog Trucks are pulling onto Willow Lake, which is nicely snow covered. Mushers are doing last minute preparations, some still changing runner plastic, others even discovering broken bolts, while some simply pull their readily loaded sleds out of a trailer. GPS Trackers are attached to each sled, matter of fact 2 of them, for redundancy. Those will provide the data for the live tracker.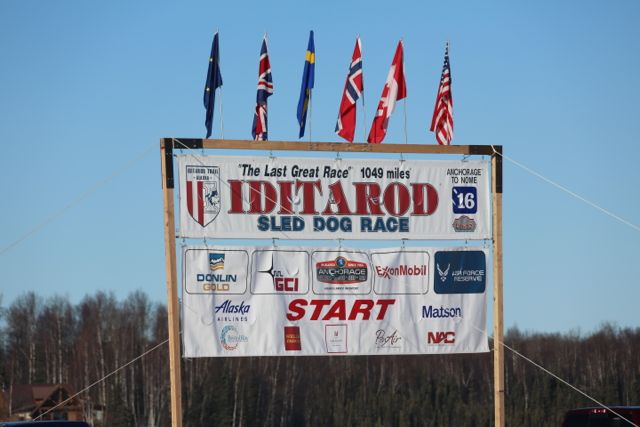 There are Iditarod hopefuls milling around like Roger Lee, who ran his qualifiers this year and is working with Scott Janssen, the first team to leave the starting chute today. Roger, originally from the U.K. hopes to run the " Big one  " next year. Kim Franklin hopes to finish her unfinished 2008 business. Talking to her mentor Dean Osmar : " Sebastian, I kept on having this nightmare, that Kim would get hurt last minute and I would have run to Nome. " Well she is here and ready to go, so Dean will not have to go.
It is always interesting to look at the different sled setups. Many mushers are carrying a caboose, which pulls behind the main sled, and that sled even has a sit-down compartment. Much has changed in the days of just normal long distance sled. Although Ken Anderson last year ended up ditching his trailer, he is back at the game again, this time driving a rig , impressive 17 feet long. " I need a CDL license to drive that thing "
Back in the day, Thomas Tetz would always come up to my sled and empty it out. You do not need this, you do not need that…. the same scene was going on this morning when Insider Bruce Lee was chatting with Iditarod Rookie ( Quest veteran ) Cody Strathe. Poor Cody, when I joined the scene, I kept on throwing even more stuff out.
Below are a few pictures, most likely you will not hear from me till Yentna later on today. Tune on in, to the live broadcast! 
Happy trails!
Sebastian