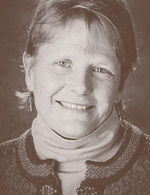 Judy Currier
Hometown:
Fairbanks, Alaska
Website:
http://lara-ke.blogspot.com
There are no records for this musher during the 1999 race.
Biography
Judy Currier, 46, was born in New Hampshire and graduated from the University of New Hampshire in 1984 with a degree in Business Administration. She was inspired by Libby Riddles' and Susan Butchers' achievements in 1982 and in 1992, she and her husband, Devan, began mushing and quickly realized that their destiny was to live in Alaska. They moved to Wasilla in 1995 and in 2002 they jumped at the opportunity to take jobs in Fairbanks to "escape Wasilla traffic" and moved to Two Rivers. When she is not on the runners or at work, Judy enjoys bicycling and running. She is employed as Senior Accountant by Brice Inc. in Fairbanks.
<>