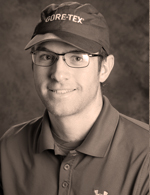 Biography
Kevin Neher, 28, was born and raised in Bloomington, MN. As a child he discovered that his Golden Retriever did not do well pulling him on a sled or a bicycle. He tried running his Golden Retriever after seeing a dog team on TV as a little kid. After that he read all the books and found as much information on sled dogs and the Iditarod that he could.
Kevin moved to Alaska in 2004 to chase his dream of building a sled dog kennel and running the Iditarod. He now owns and operates the TundraMyst Kennel in Knik, Alaska on the Old Iditarod Trail. During the summer months he works in Skagway for Alaska Excursions giving rides and talking about his dogs and racing.
Kevin has always been focused and competitive. He holds a black belt in Okinawan karate and has been a karate teacher for young students. He brings that focus to mushing, where he wants to be a role model for young people and help them achieve their own dreams as well. He sees his dogs as his family and they are a huge part of his life. He loves seeing the individual canine athletes become the very best they can be, both as individuals and as team members, trained and treated with love and respect as elite athletes.