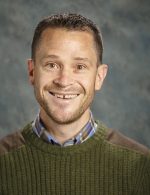 Larry Daugherty
Bib Number:
43
Hometown:
Eagle River, Alaska
Biography
Larry Daugherty, 42, was born in Provo, Utah but raised in Arvada, Colorado until age of 13. His family then moved to Auburn, Washington where he attended Auburn Senior High School. Larry is lucky and proud to be mushing for Atka Kennel with Jason Campeau's team.
He completed his undergraduate studies at Albertson College of Idaho with a degree in history. Shortly after 9/11, he accepted a job as a paramedic in Connecticut where he worked for a year prior to enrolling in the University of Utah School of Medicine, where he graduated in 2007, then completed his radiation oncology residency in 2012 at Drexel University in Philadelphia. He came to Eagle River, Alaska, in September of 2014 after working at the Mayo Clinic in Jacksonville, Florida. He now practices at Alaska Cancer Treatment Center in Anchorage, where he treats most types of cancer with radiation.
In 2017, Larry completed the Last Great Race, followed by a climb of Mt Everest, where he reached the South Summit on April 17, 2017. He is the first and only human to have accomplished this. Look for prayer flags on the side of Larry's sled, which he carries in honor of his cancer patients. The flags symbolize hope, strength and well-being–a gesture Larry sends to all afflicted with cancer anywhere in the world. Larry is blessed to share his life of adventure with his wife Prairie of 18 years and their five kids, Bailey, 17, Calvin, 15, Azalea, 11, Conrad, 8, and Charlie, 6.
Sponsors
Fjällräven
Apple Beer
Alaska Cancer Treatment Center
Joel Forsman Photography
VisionX Global Lighting
2016 Standings
Checkpoint
Time In
Dogs In
Time Out
Dogs Out
Rest Time
Previous
Layover
Status
Distance
Enroute Time
Speed (mph)
8hr
24hr
Anchorage
3/05 11:30:00
16
3/05 11:30:00
16
0h 0m
Willow
3/06 15:22:00
16
Yentna
3/06 19:48:00
16
3/06 19:53:00
16
0h 5m
4h 26m
9.47
42
Skwentna
3/07 04:06:00
16
3/07 08:54:00
16
4h 48m
8h 13m
3.65
30
Finger Lake
3/08 01:34:00
16
3/08 07:34:00
15
6h 0m
16h 40m
2.40
40
Rainy Pass
3/08 11:43:00
15
3/08 16:50:00
15
5h 7m
4h 9m
7.23
30
Rohn
3/08 21:53:00
15
3/09 07:08:00
15
9h 15m
5h 3m
6.93
35
Nikolai
3/09 21:41:00
15
3/10 03:57:00
15
6h 16m
14h 33m
5.15
75
McGrath
3/10 10:01:00
15
3/11 11:34:00
15
25h 33m
6h 4m
7.91
48
Takotna
3/11 13:47:00
15
3/11 13:48:00
15
0h 1m
2h 13m
8.12
18
Ophir
3/11 16:23:00
15
3/11 21:35:00
15
5h 12m
2h 35m
8.90
23
Cripple
3/12 12:53:00
15
3/12 20:40:00
15
7h 47m
15h 18m
4.77
73
Ruby
3/13 13:27:00
15
3/13 19:11:00
15
5h 44m
15h 47m
4.44
70
Galena
3/14 01:13:00
15
3/14 09:39:00
15
8h 26m
6h 2m
8.29
50
Nulato
3/14 16:15:00
15
3/14 21:37:00
15
5h 22m
6h 36m
5.61
37
Kaltag
3/15 01:40:00
15
3/15 08:15:00
15
6h 35m
4h 3m
11.60
47
Unalakleet
3/15 21:38:00
15
3/16 06:14:00
15
8h 36m
13h 23m
6.35
85
Shaktoolik
3/16 11:10:00
15
3/16 15:50:00
15
4h 40m
4h 56m
8.11
40
Koyuk
3/16 20:59:00
15
3/17 02:11:00
15
5h 12m
5h 9m
9.71
50
Elim
3/17 07:27:00
15
3/17 13:11:00
15
5h 44m
5h 16m
9.11
48
White Mountain
3/17 18:32:00
15
3/18 03:20:00
15
8h 48m
5h 21m
8.60
46
Safety
3/18 09:32:00
15
3/18 09:35:00
15
0h 3m
6h 12m
8.87
55
Nome
3/18 12:16:36
15
2h 41m
8.20
22