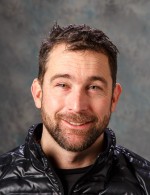 Biography
Tom Jamgochian, 38, is an Assistant District Attorney and musher living in Nome. He obtained his first sled dogs in 2011 a couple weeks after getting married. His wedding vows included a cap of 13 dogs. He now owns 17 sled dogs and yet is still married.
Born and raised in San Francisco, Tom moved to Anchorage in 2004 for what he thought was a one year legal job, after which he intended to start a normal life as a San Francisco lawyer. But, as has been known to happen, he never left. Since then, he's moved to Bethel, Fairbanks and Nome. He also married an Alaskan so he will be here for the long haul. Tom loves 8 month long winters, being out on the trail all day and on the couch with 1 or 4 sled dogs at night. He has completed the Copper Basin 300, Northern Lights 300, Knik 200 and Nome-Council 200, where he came in first place in 2015.
Tom and his wife live with their dogs 15 miles north of Nome on the banks of the Nome River. Their kennel is named Couch Dog Kennel.
Sponsors
Amelia Budd
Anna Olivo
Barbara Winter
Bering Tea
Brett Levin
Conner, Margaret/ Maisie Thomas (canine athlete donation)
David/ Ariel Sosna
Dawson/ Genevieve Williams & Cook
Dorothea Wilson
Felicity Nitz
Wesley Kelman
Amy Jamgochian
Geoffrey Gund

Hong Mai Nguyen
James /Susan Cantor
Jay /Barbara Berry
Jesse /Dorcas Yow
Joy/Peter Jamgochian
Karen Tony
Kate Kalstein
Kay Russell
Matthew West
Pink and White Productions
Tina Shim
Landye Bennett Blumstein, LLP
2016 Standings
Checkpoint
Time In
Dogs In
Time Out
Dogs Out
Rest Time
Previous
Layover
Status
Distance
Enroute Time
Speed (mph)
8hr
24hr
Anchorage
3/05 12:47:00
16
3/05 12:47:00
16
0h 0m
Willow
3/06 16:32:00
16
Yentna
3/06 20:42:00
16
3/06 20:55:00
16
0h 13m
4h 10m
10.08
42
Skwentna
3/07 05:47:00
16
3/07 05:58:00
16
0h 11m
8h 52m
3.38
30
Finger Lake
3/07 11:15:00
16
3/07 16:55:00
16
5h 40m
5h 17m
7.57
40
Rainy Pass
3/07 21:01:00
16
3/08 02:40:00
16
5h 39m
4h 6m
7.32
30
Rohn
3/08 07:51:00
16
3/08 14:16:00
16
6h 25m
5h 11m
6.75
35
Nikolai
3/09 06:57:00
16
3/09 13:18:00
15
6h 21m
16h 41m
4.50
75
McGrath
3/09 19:54:00
15
3/09 20:55:00
14
1h 1m
6h 36m
7.27
48
Takotna
3/09 23:20:00
14
3/10 23:36:00
14
24h 16m
2h 25m
7.45
18
Ophir
3/11 02:10:00
14
3/11 02:20:00
14
0h 10m
2h 34m
8.96
23
Cripple
3/11 18:15:00
14
3/12 01:43:00
14
7h 28m
15h 55m
4.59
73
Ruby
3/12 15:44:00
14
3/13 01:22:00
12
9h 38m
14h 1m
4.99
70
Galena
3/13 09:01:00
12
3/13 16:00:00
11
6h 59m
6h 39m
7.52
50
Nulato
3/13 22:31:00
11
3/14 05:27:00
11
6h 56m
6h 31m
5.68
37
Kaltag
3/14 09:40:00
11
3/14 14:47:00
11
5h 7m
4h 13m
11.15
47
Unalakleet
3/15 07:22:00
11
3/15 13:31:00
9
6h 9m
16h 35m
5.13
85
Shaktoolik
3/15 19:49:00
9
3/16 02:20:00
9
6h 31m
6h 18m
6.35
40
Koyuk
3/16 08:04:00
9
3/16 14:15:00
9
6h 11m
5h 44m
8.72
50
Elim
3/16 20:09:00
9
3/17 03:00:00
9
6h 51m
5h 54m
8.14
48
White Mountain
3/17 09:05:00
9
3/17 17:05:00
9
8h 0m
6h 5m
7.56
46
Safety
3/17 23:41:00
9
3/17 23:43:00
9
0h 2m
6h 36m
8.33
55
Nome
3/18 02:45:54
9
3h 2m
7.25
22