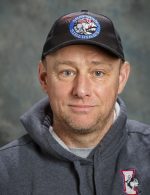 Biography
Rob Cooke is a mid and long distance dog musher who, along with his wife Louise, operates Shaytaan Siberian Huskies based just outside of Whitehorse in Canada's Yukon Territory.
Having been running Siberian Huskies since 1997, firstly in dryland sprint in the UK then short mid-distance races on the East coast of North America, Rob now has been living outside of Whitehorse with 53 purebred Siberian Huskies since 2012. Rob and the team have finished the Yukon Quest on seven occasions, the latest in 2020 where he also received the Sportsmanship Award for the second consecutive race. In addition, the team has taken part in the Iditarod on three occasions including being the only musher running purebred dogs to complete both 1000-mile races (Yukon Quest and Iditarod) back to back in the same winter, achieving this in 2015 and 2016.
In addition to long-distance racing Rob has completed the Copper Basin 300, billed as the toughest 300-mile race in Alaska, on seven occasions and finished 2nd in the 2012 Yukon Quest 300 where he was awarded the Vet Choice Award for excellence in dog care. Having served as a race judge on the 2014 Yukon Quest and Vice President of the Yukon Quest International Board of Directors in 2014/15, Rob has presented on Siberian Huskies, mushing and the Yukon Quest in North America, Australia, Russia and Europe.
SPONSORS:
Dogbooties.com
Dr. Carson's
Head-lites.com
Trail Baby
Quiet Moose Jewellery
Breizh Korser
Strong Arm Forge
Arctic Mood Photography
Lesley Howarth Artist
Nunataq Alaskan Malamutes
Jon Van Zyle
Nanette Wendel
Judy McDonell-Viale
Judy Beaumont
Armelle Ayrault
Kristen Janowsky
Hugh and Judy Wakker
Kate and Aj Pearson
Sharon Korte
Nicola Michelle
Teghyn Jenelle
Dale Dyer
Denise Hansen
Sally DeMerchant
Jeff Buddington
Charles Dobson
Birgit von Pelser
Georgina Bellcourt
Snowdrift Siberians
Pam Buckway
Hollius Sensenig
Linda Degnan
Janet Wilde
Teena Flemming
Michelle Anderson
Jo-Anne Richardson
Viktor Varga
Trish Cox
Sharen and Col McPhan
Tracey Storey
Heather Walls
Dana Robertson
Kay Kelley
Cathy McGrath
Kathy Postill
Steve Weston
Katherine Brown
Christine Davies
Nannette Morgan
Elisa Shoenberger
Pam Upton
Jayne Caudy
Karen Czarnecki
Brenda Elliott
Jayne Phipps
Jackie Wepruck
Jan Tenney
Katharina Sommer
Mary Lynn Roush
Lin Stoller Olson
Cara Bissonnette
Dawn Beckwell
Pauline Amphlett
Krys March
Kyla Foster
Amber Polson
Nicolle Wisniewski
Jane Harf
Sponsors
SR&T (Scotland) Engineering Ltd.
Born to Run Rescues
Head Lites
Trail Baby
Muktuk Adventures
Giachello Clothing
Julien Schroder – Arctic Mood.com
Corinne Bend
Denise Hansen
Chrissie Davies
Lin Olsen
Michelle Anderson
Charlene Dort
Krys March
Joanne Suan/Headlites
Mohammed Ali
Nicolle Hendrix

Jane Harf
Kristen Janowsky
Diane McMahon
Sarah Haley
Sandra and Ian Berry-Bowers
Armelle Ayrault
Caroline Mawson
Gillian Kirby (Meg)
Mike and Sue Clarke
Jayne Kingdon
Dawn Beckwell
Kate Pearson
Marianne Peters
Karen G Czarnecki
Aj Pearson
Nancy Garrett
dogbooties.com
2018 Standings
Checkpoint
Time In
Dogs In
Time Out
Dogs Out
Rest Time
Previous
Layover
Status
Distance
Enroute Time
Speed (mph)
8hr
24hr
Willow
3/04 14:16:00
16
Yentna
3/04 18:57:00
16
3/04 19:00:00
16
0h 3m
4h 41m
8.97
42
Skwentna
3/05 03:04:00
16
3/05 03:12:00
16
0h 8m
8h 4m
3.72
30
Finger Lake
3/05 09:28:00
16
3/05 15:31:00
16
6h 3m
6h 16m
6.38
40
Rainy Pass
3/05 20:12:00
16
3/06 01:27:00
16
5h 15m
4h 41m
6.41
30
Rohn
3/06 05:54:00
16
3/06 10:00:00
16
4h 6m
4h 27m
7.87
35
Nikolai
3/07 02:56:00
16
3/07 12:13:00
16
9h 17m
16h 56m
4.43
75
McGrath
3/07 19:46:00
16
3/08 00:25:00
16
4h 39m
7h 33m
6.36
48
Takotna
3/08 03:38:00
16
3/09 05:34:00
16
25h 56m
3h 13m
5.60
18
Ophir
3/09 08:41:00
16
3/09 08:52:00
16
0h 11m
3h 7m
7.38
23
Iditarod
3/10 03:20:00
16
3/10 09:27:00
14
6h 7m
18h 28m
4.33
80
Shageluk
3/10 18:30:00
14
3/11 03:31:00
14
8h 1m
9h 3m
6.08
55
Anvik
3/11 07:10:00
14
3/11 07:14:00
14
0h 4m
3h 39m
6.85
25
Grayling
3/11 09:06:00
14
3/11 15:44:00
13
6h 38m
1h 52m
9.64
18
Kaltag
3/13 01:48:00
13
34h 4m
3.58
Scratched
122