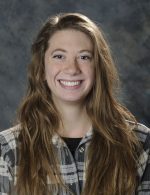 Biography
Tara, 26, was born and raised in Tonawanda, a suburb just outside Buffalo, New York. After completing her B.A. in English at Canisius College, adventure and the pulls of Alaska called her name. She applied and was accepted to KNOM Radio's Volunteer program, and moved to Nome, Alaska in August 2013. It was there she learned of the mushing world through covering various sled dog races and witnessing her first Iditarod finish.
While working at KNOM, she was introduced to a local Nome musher whom she worked with for her first season in the sport. She ran and completed her first-ever race, the Kuskowim 300, in 2015. She spent the 2016 season watching from afar, but after trekking back to Nome to watch her third Iditarod finish, she knew she had to go back.
Tara and Kristin Bacon met during the 2015 season, as Tara hosted Jeff King and handling crew in Nome for the 2015 Iditarod. Tara and Kristin joined forces in September 2016, as Kristin and doggies warmly welcomed Tara to the Bacon's Acres Team. Tara is beyon excited to be running dogs of Bacon's Acres for her rookie Iditarod!
Tara lists her hobbies and interests as "dancing, beach combing, and making people smile."
Sponsors
Kristin Bacon/Bacon's Acres Kennel
Kidability Physical Therapy, LLC
Jeff King/Husky Homestead
Kent Waite/Gotta Wanna Expeditions
Mike/Carol Fritz; Buff, Inc, CA

Denali ATV Adventures
Denali Jeep Excursions
Denali Park Zipline
Family & Friends
2018 Standings
Checkpoint
Time In
Dogs In
Time Out
Dogs Out
Rest Time
Previous
Layover
Status
Distance
Enroute Time
Speed (mph)
8hr
24hr
Willow
3/04 15:24:00
14
Yentna
3/04 20:29:00
14
3/05 01:30:00
14
5h 1m
5h 5m
8.26
42
Skwentna
3/05 05:15:00
14
3/05 12:23:00
14
7h 8m
3h 45m
8.00
30
Finger Lake
3/05 21:28:00
14
3/05 22:13:00
13
0h 45m
9h 5m
4.40
40
Rainy Pass
3/06 03:14:00
13
3/06 11:04:00
13
7h 50m
5h 1m
5.98
30
Rohn
3/06 17:06:00
13
3/06 23:41:00
13
6h 35m
6h 2m
5.80
35
Nikolai
3/07 17:12:00
13
3/07 23:12:00
13
6h 0m
17h 31m
4.28
75
McGrath
3/08 06:54:00
13
3/09 08:40:00
13
25h 46m
7h 42m
6.23
48
Takotna
3/09 11:15:00
13
3/09 12:16:00
13
1h 1m
2h 35m
6.97
18
Ophir
3/09 15:28:00
13
3/09 21:12:00
13
5h 44m
3h 12m
7.19
23
Iditarod
3/10 17:23:00
13
3/11 03:07:00
13
8h 44m
20h 11m
3.96
80
Shageluk
3/11 16:26:00
13
3/12 00:27:00
13
8h 1m
13h 19m
4.13
55
Anvik
3/12 03:55:00
13
3/12 04:39:00
13
0h 44m
3h 28m
7.21
25
Grayling
3/12 07:49:00
13
3/12 16:09:00
13
8h 20m
3h 10m
5.68
18
Kaltag
3/14 19:54:00
13
3/15 03:03:00
13
7h 9m
51h 45m
2.36
122
Unalakleet
3/15 18:30:00
13
15h 27m
5.50
Withdrawn
85