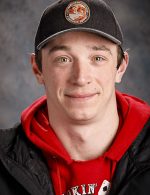 Biography
Matt Hall, 32, was born and raised in Eagle, Alaska on the Yukon River, where he worked his trap line with his sled dogs and guided week long expeditions for his parents company, Bush Alaska Expeditions. He started mushing when he was just two years old that began his dream of racing. The first generation of pups that would create the foundation of his future race team was then born the summer he turned 16. He moved to Two Rivers, Alaska, to pursue competitive racing and completed his first long-distance race, the Yukon Quest 1000, at the age of 22. His off-grid kennel, Smokin' Ace Kennels, sits on a 40-acre parcel of land next to the Chena River that he shares with his wife, Elke. For the last 14 summers, he has lived and managed for Alaska Icefield Expeditions on the Denver, Mendenhall and Norris Glacier. Winters are spent training and guiding tours with one of his largest sponsors, Rods Alaskan Guide Service. At the age of 26 he was the Yukon Quest 1000 champion of 2017 and finished in 4th place in last years Iditarod 2023. He continues his racing career by now competing in his 6th Iditarod of 2024.
Sponsors
Bema Electronics INC.
Alaska Icefield Expedition
Sea Fare Pacific
Boundary Fur Sewing

Bush Alaska Expeditions

Dog Sponsors: Metta Canez, Suzanne M Snyder, Diana Harper and Family, Marcie Bresson, Betty Anne Miller, Barbara Hartman, Deborah Davis, Ray Tonglee, McQuat Family, Luke Ashworth, Zink Family, Patricia AnneLikos, and Mary Ann Capps.
Awards
Most Inspirational Musher


2021 Standings
Checkpoint
Time In
Dogs In
Time Out
Dogs Out
Rest Time
Previous
Layover
Status
Distance
Enroute Time
Speed (mph)
8hr
24hr
Deshka Landing N
3/07 14:30:00
14
Skwentna N
3/07 20:45:00
14
3/07 20:51:00
14
0h 6m
6h 15m
10.72
67
Finger Lake N
3/08 04:51:00
14
3/08 04:57:00
14
0h 6m
8h 0m
5.00
40
Rainy Pass N
3/08 12:30:00
14
3/08 12:36:00
14
0h 6m
7h 33m
3.97
30
Rohn N
3/08 16:41:00
14
3/09 00:42:00
13
8h 1m
4h 5m
8.57
35
Nikolai N
3/09 12:28:00
13
3/09 12:50:00
13
0h 22m
11h 46m
6.37
75
McGrath N
3/10 00:16:00
13
3/11 01:27:00
10
25h 11m
11h 26m
4.20
48
Ophir N
3/11 06:34:00
10
3/11 11:33:00
10
4h 59m
5h 7m
8.01
41
Iditarod N
3/12 02:41:00
10
3/12 02:52:00
10
0h 11m
15h 8m
5.29
80
Ophir S
3/12 19:05:00
10
3/13 03:04:00
9
7h 59m
16h 13m
4.93
80
McGrath S
3/13 08:44:00
9
3/14 09:07:00
9
23h 23m
5h 40m
7.24
41
Nikolai S
3/14 15:13:00
9
3/14 21:11:00
9
5h 58m
6h 6m
7.87
48
Rohn S
3/15 12:16:00
9
3/15 16:53:00
9
4h 37m
15h 5m
4.97
75
Rainy Pass S
3/15 21:17:00
9
3/15 21:22:00
9
0h 5m
4h 24m
7.95
35
Finger Lake S
3/16 05:54:00
9
3/16 05:57:00
9
0h 3m
8h 32m
3.52
30
Skwentna S
3/16 11:04:00
9
3/16 19:04:00
9
8h 0m
5h 7m
7.82
40
Deshka Landing S
3/17 03:02:48
9
7h 58m
8.41
67