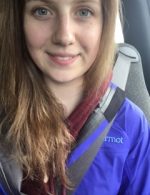 Biography
I grew up half the year living in Fairbanks and half the year at my parent's remote trap line cabin on the Porcupine River where we lived a subsistence lifestyle of hunting, fishing and trapping. My dad had sled dogs for running his trap line and this is where I got hooked on dog mushing! At the age of 7 I was following behind with a small dog team and as a teenager I dreamed of one day having my own race team. In high school I bought my very first sled dog and had my first litter of pups. As I completed college and my nursing degree I continued building my own kennel and started doing a few mid-distance races. In 2016 I finished my nursing degree and started working at Tanana Valley Clinic in the pediatric department and went on to work at Fairbanks Memorial Hospital inpatient pediatrics where I still work to this day! Over the past six years I've enjoyed competing in mid-distance races from Percy DeWolfe in Dawson to Kuskokwim 300 in Bethel. My dogs come from a mix of Mackey, Kleedehn and Cadzow lines and I've raised most of them since pups. My team and I are excited to finally get to see the Iditarod trail!
Sponsors
Motley Crew Kennel dog sponsors,
Dog sponsors
Non-stop Dogwear
Big Dan's Trucking
Darby's Performance
Beaver Sports

Local Laborer's Union 942
Wandy Hawkins
Paul & Dawn Jagow,
Big Dan's Meat,
And all my wonderful family and friends. Without you this dream would not even be a possibility!
2021 Standings
Checkpoint
Time In
Dogs In
Time Out
Dogs Out
Rest Time
Previous
Layover
Status
Distance
Enroute Time
Speed (mph)
8hr
24hr
Deshka Landing N
3/07 14:40:00
14
Skwentna N
3/07 23:11:00
14
3/08 03:12:00
14
4h 1m
8h 31m
7.87
67
Finger Lake N
3/08 07:46:00
14
3/08 11:44:00
14
3h 58m
4h 34m
8.76
40
Rainy Pass N
3/08 15:15:00
14
3/08 19:12:00
14
3h 57m
3h 31m
8.53
30
Rohn N
3/09 00:28:00
14
3/09 03:36:00
14
3h 8m
5h 16m
6.65
35
Nikolai N
3/09 17:42:00
14
3/09 23:50:00
13
6h 8m
14h 6m
5.32
75
McGrath N
3/10 06:17:00
13
3/11 07:12:00
13
24h 55m
6h 27m
7.44
48
Ophir N
3/11 11:45:00
13
3/11 15:49:00
13
4h 4m
4h 33m
9.01
41
Iditarod N
3/12 05:37:00
13
3/12 11:37:00
13
6h 0m
13h 48m
5.80
80
Ophir S
3/13 03:15:00
13
3/13 07:20:00
12
4h 5m
15h 38m
5.12
80
McGrath S
3/13 12:55:00
12
3/13 21:30:00
11
8h 35m
5h 35m
7.34
41
Nikolai S
3/14 05:50:00
11
3/14 14:11:00
10
8h 21m
7h 20m
6.55
48
Rohn S
3/15 14:12:00
10
3/15 19:43:00
10
5h 31m
24h 1m
3.12
75
Rainy Pass S
3/16 00:19:00
10
3/16 00:26:00
10
0h 7m
4h 36m
7.61
35
Finger Lake S
3/16 07:09:00
10
3/16 11:06:00
10
3h 57m
6h 43m
4.47
30
Skwentna S
3/16 16:42:00
10
3/17 00:44:00
10
8h 2m
5h 36m
7.14
40
Deshka Landing S
3/17 08:54:48
10
8h 10m
8.20
67