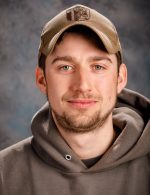 Biography
Jeff Deeter, 32, started mushing at the age of 15. After completing his first Iditarod in 2008, Jeff took ten years away from the race. In that time, he met his wife, KatieJo, built a home in Fairbanks, and started a tour business, Black Spruce Dog Sledding.
After following and analyzing years of Iditarod races, Jeff has made it his goal to run competitively. Finishing 15th and 16th in the last two races, he is planning to take his team to a faster, and more competitive finish in the years to come. "But more than anything, what matters to me is experiencing the trail with my dogs, and living this unique dream. The Iditarod is unlike any other event, and running this trail, with my four legged friends, is truly amazing!"
Follow Jeff and his team by going to their website, or liking their kennel page on Facebook and Instagram.
Sponsors
Joe L
Rich and Julie
Jess SG
Jim and Kelley
Elizabeth K
Doug and Arlene
Carolyn S
Karen and Clarence
The Woodwell Family
Julie F
Chuck and Elizabeth
Dave and Kristi
Manuel S
A Working-Dog-Loving Family
The Albertson Family
Spears
Barbara SO
Betty A
Kim and Jenny
David and Melanie
Helene and Ed
Laurel J
Gretchen D

The Karstensen Family
Marilyn C
Andy and Kai
Kurt M
Whitney McLaren Photography
Dr. Dan Bergeron, DDS
Gold Daughters
GCR Tires and Service
Boundary Fur Sewing
Dr. Carson's Pet Supplements
The Bailey Family
The Linns
John and Claudia
Jamie and Marco
Johann and Stephanie
Melissa M
The Olivera Family
Tim and Chyrisse
Stephanie and Jane
Brittney and Cindy
Chuck and Jenny
The Manjarrez's
dogbooties.com
2021 Standings
Checkpoint
Time In
Dogs In
Time Out
Dogs Out
Rest Time
Previous
Layover
Status
Distance
Enroute Time
Speed (mph)
8hr
24hr
Deshka Landing N
3/07 14:10:00
14
Skwentna N
3/07 20:34:00
14
3/07 22:06:00
14
1h 32m
6h 24m
10.47
67
Finger Lake N
3/08 04:10:00
14
3/08 06:00:00
14
1h 50m
6h 4m
6.59
40
Rainy Pass N
3/08 11:01:00
14
3/08 11:05:00
14
0h 4m
5h 1m
5.98
30
Rohn N
3/08 19:29:00
14
3/08 19:49:00
14
0h 20m
8h 24m
4.17
35
Nikolai N
3/09 10:32:00
14
3/09 14:46:00
14
4h 14m
14h 43m
5.10
75
McGrath N
3/09 21:25:00
14
3/10 22:47:00
13
25h 22m
6h 39m
7.22
48
Ophir N
3/11 03:28:00
13
3/11 07:10:00
13
3h 42m
4h 41m
8.75
41
Iditarod N
3/11 20:50:00
13
3/11 21:05:00
13
0h 15m
13h 40m
5.85
80
Ophir S
3/12 11:09:00
13
3/12 16:13:00
13
5h 4m
14h 4m
5.69
80
McGrath S
3/12 21:08:00
13
3/13 05:18:00
12
8h 10m
4h 55m
8.34
41
Nikolai S
3/13 11:28:00
12
3/13 16:27:00
12
4h 59m
6h 10m
7.78
48
Rohn S
3/14 07:13:00
12
3/14 07:33:00
10
0h 20m
13h 46m
5.45
75
Rainy Pass S
3/14 11:44:00
10
3/14 12:16:00
10
0h 32m
4h 11m
8.37
35
Finger Lake S
3/14 20:21:00
10
3/14 20:21:00
10
0h 0m
8h 5m
3.71
30
Skwentna S
3/15 02:58:00
10
3/15 10:58:00
10
8h 0m
6h 37m
6.05
40
Deshka Landing S
3/15 19:35:34
10
8h 37m
7.78
67