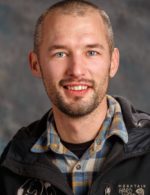 Biography
I'm living the Alaskan Dream! I moved here in 2011 to mush and that's what we do! I have an amazing job with the Bureau of Land Management working in Chicken, Alaska during the summers and have winters off. This situation allows me to 100% focus on training my dogs during the winter months and run Iditarod. In short I work so I can mush to fuel the passion.
I'm super proud that we run what we raise inside our kennel and find good retirement homes for those dogs that are ready to move on. Every single dog on my Iditarod team has been born here in our kennel and our biggest strength is our trust between each other. Just as important as the dog team is the human team, and Nolan, Nikki, Eric and Jonah are back again to care for, train and race the dogs. They are the best and it takes a team to make the Iditarod dream happen.
As Joe Dirt would say, "Life's a garden, dig it!"
SPONSORS:
Aurora Animal Clinic
Ivory Jacks
The Amazing Individual Dog Sponsors!!!
2022 Standings
Checkpoint
Time In
Dogs In
Time Out
Dogs Out
Rest Time
Previous
Layover
Status
Distance
Enroute Time
Speed (mph)
8hr
24hr
Willow
3/06 14:46:00
14
Yentna
3/06 18:54:00
14
3/06 18:58:00
14
0h 4m
4h 8m
10.16
42
Skwentna
3/06 22:14:00
14
3/07 02:48:00
14
4h 34m
3h 16m
9.18
30
Finger Lake
3/07 07:32:00
14
3/07 11:39:00
14
4h 7m
4h 44m
8.45
40
Rainy Pass
3/07 15:14:00
14
3/07 19:53:00
14
4h 39m
3h 35m
8.37
30
Rohn
3/08 00:29:00
14
3/08 05:55:00
13
5h 26m
4h 36m
7.61
35
Nikolai
3/08 17:16:00
13
3/08 22:07:00
12
4h 51m
11h 21m
6.61
75
McGrath
3/09 04:09:00
12
3/09 07:20:00
11
3h 11m
6h 2m
7.96
48
Ophir
3/09 12:53:00
11
3/10 13:43:00
11
24h 50m
5h 33m
7.39
41
Cripple
3/11 02:46:00
11
3/11 08:21:00
11
5h 35m
13h 3m
5.59
73
Ruby
3/11 21:15:00
11
3/12 05:25:00
11
8h 10m
12h 54m
5.43
70
Galena
3/12 11:58:00
11
3/12 18:05:00
11
6h 7m
6h 33m
7.63
50
Nulato
3/13 00:14:00
11
3/13 05:27:00
11
4h 13m
6h 9m
6.02
37
Kaltag
3/13 10:00:00
11
3/13 14:25:00
11
4h 25m
4h 33m
10.33
47
Unalakleet
3/14 12:33:00
11
3/14 18:31:00
11
5h 58m
22h 8m
3.84
85
Shaktoolik
3/15 00:51:00
11
3/15 09:25:00
11
8h 34m
6h 20m
6.32
40
Koyuk
3/15 15:34:00
11
3/16 06:36:00
11
15h 2m
6h 9m
8.13
50
Elim
3/16 11:44:00
11
3/16 18:55:00
11
7h 11m
5h 8m
9.35
48
White Mountain
3/17 00:45:00
11
3/17 09:11:00
11
8h 26m
5h 50m
7.89
46
Safety
3/17 16:10:00
11
3/17 16:23:00
11
0h 13m
6h 59m
7.88
55
Nome
3/17 19:12:31
11
2h 49m
7.81
22