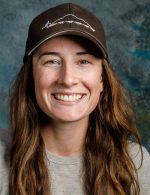 Biography
Otto predominately grew up in Idaho and was first introduced to the world of dog mushing at age 8 at the Ashton Dog Derby in Ashton, ID.
She came to Alaska in 2016 to run dogs after suffering a career-ending injury (soccer) during her senior year of college. She began handling for Jeff King at Husky Homestead in 2020 and made her racing debut in 2021, completing all her qualifiers in a single season. She ran the Iditarod in 2022 and placed second at the Yukon Quest 550 (2023) where she also received the Vet's Choice Award for her dog care.
Dogs have and will always be woven into the fabric of Otto's life and she would like to thank Jeff King, Husky Homestead and sponsors near and far for the opportunity to be on the trail again.
2022 Standings
Checkpoint
Time In
Dogs In
Time Out
Dogs Out
Rest Time
Previous
Layover
Status
Distance
Enroute Time
Speed (mph)
8hr
24hr
Willow
14
3/06 15:00:00
14
Yentna
3/06 18:59:00
14
3/06 19:03:00
14
0h 4m
3h 59m
10.54
42
Skwentna
3/06 22:21:00
14
3/07 05:33:00
14
7h 12m
3h 18m
9.09
30
Finger Lake
3/07 10:16:00
14
3/07 15:29:00
14
5h 13m
4h 43m
8.48
40
Rainy Pass
3/07 19:06:00
14
3/08 04:30:00
14
9h 24m
3h 37m
8.29
30
Rohn
3/08 08:22:00
14
3/08 11:12:00
14
2h 50m
3h 52m
9.05
35
Nikolai
3/08 22:37:00
14
3/09 04:43:00
14
6h 6m
11h 25m
6.57
75
McGrath
3/09 10:56:00
14
3/10 11:32:00
14
24h 36m
6h 13m
7.72
48
Ophir
3/10 17:52:00
14
3/11 01:11:00
13
7h 19m
6h 20m
6.47
41
Cripple
3/11 11:57:00
13
3/11 19:04:00
13
7h 7m
10h 46m
6.78
73
Ruby
3/12 08:04:00
13
3/12 16:04:00
13
8h 0m
13h 0m
5.38
70
Galena
3/12 22:10:00
13
3/13 08:40:00
12
9h 30m
6h 6m
8.20
50
Nulato
3/13 13:52:00
12
3/13 19:20:00
12
5h 28m
5h 12m
7.12
37
Kaltag
3/13 23:30:00
12
3/14 07:46:00
11
8h 16m
4h 10m
11.28
47
Unalakleet
3/14 20:48:00
11
3/15 08:03:00
11
11h 15m
13h 2m
6.52
85
Shaktoolik
3/15 13:10:00
11
3/15 17:34:00
11
4h 24m
5h 7m
7.82
40
Koyuk
3/15 22:38:00
11
3/16 06:56:00
11
8h 18m
5h 4m
9.87
50
Elim
3/16 11:40:00
11
3/16 16:55:00
11
5h 15m
4h 44m
10.14
48
White Mountain
3/16 22:03:00
11
3/17 09:01:00
11
10h 58m
5h 8m
8.96
46
Safety
3/17 14:26:00
11
3/17 14:29:00
11
0h 3m
5h 25m
10.15
55
Nome
3/17 16:57:54
11
2h 28m
8.92
22