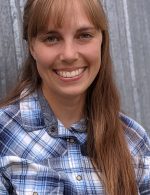 Kailyn Davis
Bib Number:
41
Hometown:
Fairbanks, Alaska
Biography
Kailyn Davis 29, was raised in Anchorage, Alaska and moved to Fairbanks in 2010 where she attended the University of Alaska Fairbanks and obtained bachelor's degrees in Music Education and Geology.
When she was only seven years old her elementary school class followed the Iditarod after being visited by Iditarod musher John Baker. It was then she decided that she was going to run it some day. With that determination she started running dogs at the age of 17 with Christine Roalofs and finished her qualifiers with teams from Roalofs and Al Eischens while attending college. In 2020-21 Kailyn completed her first year as a high school math teacher in the Fairbanks North Star Borough School District before getting an offer to run Iditarod and after many years of working towards her mushing goal and seeing close friends cross the burled arch, it's her turn to try. This year she is excited and honored to be running dogs from Wade Marrs out of Willow, Alaska.
When not mushing, Kailyn enjoys playing music, skijoring, hiking, running, fishing and rock climbing.
SPONSORS:
Flexadin Advanced
Rob and Inger Avery
Many Generous Friends and Family
2022 Standings
Checkpoint
Time In
Dogs In
Time Out
Dogs Out
Rest Time
Previous
Layover
Status
Distance
Enroute Time
Speed (mph)
8hr
24hr
Willow
14
3/06 15:18:00
14
Yentna
3/06 19:58:00
14
3/06 23:25:00
14
3h 27m
4h 40m
9.00
42
Skwentna
3/07 03:03:00
14
3/07 08:32:00
14
5h 29m
3h 38m
8.26
30
Finger Lake
3/07 13:38:00
14
3/07 18:31:00
14
4h 53m
5h 6m
7.84
40
Rainy Pass
3/07 22:39:00
14
3/08 04:10:00
14
5h 31m
4h 8m
7.26
30
Rohn
3/08 09:43:00
14
3/08 12:36:00
13
2h 53m
5h 33m
6.31
35
Nikolai
3/09 14:24:00
13
3/09 19:45:00
12
5h 21m
25h 48m
2.91
75
McGrath
3/10 11:20:00
12
3/11 12:12:00
11
24h 52m
15h 35m
3.08
48
Ophir
3/11 18:25:00
11
3/11 23:15:00
11
4h 50m
6h 13m
6.60
41
Cripple
3/12 15:10:00
11
3/12 22:44:00
9
7h 34m
15h 55m
4.59
73
Ruby
3/13 18:31:00
9
3/14 00:34:00
9
6h 3m
18h 47m
3.73
70
Galena
3/14 07:36:00
9
3/14 15:52:00
9
8h 16m
7h 2m
7.11
50
Nulato
3/14 22:13:00
9
3/15 01:41:00
9
3h 28m
6h 21m
5.83
37
Kaltag
3/15 06:18:00
9
3/15 14:10:00
9
7h 52m
4h 37m
10.18
47
Unalakleet
3/16 05:57:00
9
3/16 11:51:00
9
5h 54m
15h 47m
5.39
85
Shaktoolik
3/16 18:38:00
9
3/17 10:27:00
9
15h 49m
6h 47m
5.90
40
Koyuk
3/17 17:18:00
9
3/17 21:30:00
9
4h 12m
6h 51m
7.30
50
Elim
3/18 03:12:00
9
3/18 07:33:00
8
4h 21m
5h 42m
8.42
48
White Mountain
3/18 15:18:00
8
3/19 10:50:00
8
19h 32m
7h 45m
5.94
46
Safety
3/19 18:10:00
8
3/19 18:24:00
8
0h 14m
7h 20m
7.50
55
Nome
3/19 21:49:51
8
3h 25m
6.44
22