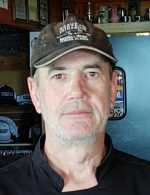 Biography
I was born and raised in South Africa. After graduating from high school I joined the military, the South African Infantry Corps and achieved the rank of First Lieutenant Platoon Commander, serving several tours in Angola. After the military I joined a restaurant group and a few years later, owned my own outlet of the group. I came to the USA in 2010 to learn more and to see the world.
After hearing about dog sledding and Iditarod from a friend, my wife and I joined a kennel in Michigan as handlers competing in several smaller races. In 2020 I worked for an Iditarod racing kennel and have since completed the required (mid-distance) qualifiers.
I struggled for a long time with the Why-why do I want to do the Iditarod? In 2018 I incorporated the GAT Foundation Inc. and the why was answered: to promote, support and bring awareness to the needs of US Veterans.
SPONSORS:
Mitch & Janine Seavey
Craig & Brenda Carter
CTC Dog Gear, NY
A Sweet Farms, Indian River, MI
R2P Innovations, Goose Creek, SC
Efficient Engineering, Johannesburg, South Africa
Breakers Bar & Grill, Topinabee, MI
Corwith Station Bar & Grill, Vanderbilt, MI
Wigwam Bar & Grill, Indian River, MI
Derek & Ronda Schittekat
2022 Standings
Checkpoint
Time In
Dogs In
Time Out
Dogs Out
Rest Time
Previous
Layover
Status
Distance
Enroute Time
Speed (mph)
8hr
24hr
Willow
14
3/06 15:14:00
14
Yentna
3/06 19:23:00
14
3/06 21:44:00
14
2h 21m
4h 9m
10.12
42
Skwentna
3/07 00:59:00
14
3/07 07:33:00
14
6h 34m
3h 15m
9.23
30
Finger Lake
3/07 12:16:00
14
3/07 17:32:00
13
5h 16m
4h 43m
8.48
40
Rainy Pass
3/07 21:03:00
13
3/08 04:19:00
13
7h 16m
3h 31m
8.53
30
Rohn
3/08 08:18:00
13
3/08 14:57:00
13
6h 39m
3h 59m
8.79
35
Nikolai
3/09 03:14:00
13
3/09 06:19:00
13
3h 5m
12h 17m
6.11
75
McGrath
3/09 16:45:00
13
3/10 17:20:00
13
24h 35m
10h 26m
4.60
48
Ophir
3/10 23:00:00
13
3/11 09:07:00
13
10h 7m
5h 40m
7.24
41
Cripple
3/11 19:33:00
13
3/12 07:43:00
13
12h 10m
10h 26m
7.00
73
Ruby
3/12 19:48:00
13
3/13 04:18:00
13
7h 30m
12h 5m
5.79
70
Galena
3/13 11:03:00
13
3/13 19:18:00
13
8h 15m
6h 45m
7.41
50
Nulato
3/14 01:48:00
13
3/14 08:55:00
13
7h 7m
6h 30m
5.69
37
Kaltag
3/14 13:08:00
13
3/14 19:01:00
11
5h 53m
4h 13m
11.15
47
Unalakleet
3/15 11:23:00
11
3/15 18:10:00
11
6h 47m
16h 22m
5.19
85
Shaktoolik
3/16 00:19:00
11
3/16 09:19:00
10
9h 0m
6h 9m
6.50
40
Koyuk
3/16 16:23:00
10
3/16 23:34:00
10
7h 11m
7h 4m
7.08
50
Elim
3/17 05:32:00
10
3/17 12:35:00
10
7h 3m
5h 58m
8.04
48
White Mountain
3/17 19:25:00
10
3/18 04:06:00
9
8h 41m
6h 50m
6.73
Scratched
46