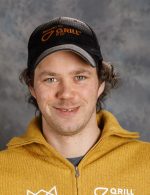 Biography
This 2018 Iditarod Champion has nine Iditarod races behind him and in each race has placed in the top ten; he is hoping this year will be no exception.
Joar Leifseth Ulsom grew up in beautiful Norway, just south of the Arctic circle. With a love of nature, adventure and dogs, becoming a musher tied everything together nicely for him. In 2011, Joar moved from Norway to Alaska with his kennel of seventeen dogs and started applying himself to learning the ropes of racing. Among others, he has had the pleasure of participating in the Yukon Quest, Copper Basin 300, Nadezhda Hope Race and Kuskokwim 300.
In 2018, Joar became a proud member of the Norway based Qrill Pet Mushing Team and it was a dream come true when he crossed the finish line in first place during that year's Iditarod. His kennel, Sivo Racing Kennel in Willow Alaska, has grown to about 60 wonderful dogs and is run by Joar and his wife, a veterinarian named Margot.
A newly minted private pilot, Joar is working diligently towards his commercial pilot's license. Joar also became a doting father when his pride and joy, Henrik, was born in the summer of 2021. In what time he has left, Joar tries to get his little family on foot, skis, plane, bike or dog sled into the mountains that he loves so much.
SPONSORS:
QRILL Pet
Gealach Mor Kennel
Non-Stop Doggear
First Lite
The Henning Group
Angstman Law Office
Deuter
Helgeland Sparebank
Trumf Trading
Nova Sea
Lovund
Occasione by Olaisen
Maria Olaisen As
Dan Ditlefsen
Awards
Fastest Time from Safety to Nome — Sponsored by Nome Kennel Club


2022 Standings
Checkpoint
Time In
Dogs In
Time Out
Dogs Out
Rest Time
Previous
Layover
Status
Distance
Enroute Time
Speed (mph)
8hr
24hr
Willow
3/06 14:20:00
14
Yentna
3/06 18:21:00
14
3/06 19:47:00
14
1h 26m
4h 1m
10.46
42
Skwentna
3/06 23:06:00
14
3/07 02:42:00
14
3h 36m
3h 19m
9.05
30
Finger Lake
3/07 07:30:00
14
3/07 11:23:00
14
3h 53m
4h 48m
8.33
40
Rainy Pass
3/07 14:37:00
14
3/07 19:21:00
13
4h 44m
3h 14m
9.28
30
Rohn
3/07 23:06:00
13
3/07 23:13:00
13
0h 7m
3h 45m
9.33
35
Nikolai
3/08 12:46:00
13
3/08 17:45:00
12
4h 59m
13h 33m
5.54
75
McGrath
3/08 23:28:00
12
3/09 03:54:00
12
4h 26m
5h 43m
8.40
48
Ophir
3/09 08:41:00
12
3/10 09:59:00
11
25h 18m
4h 47m
8.57
41
Cripple
3/10 23:23:00
11
3/11 04:07:00
11
4h 44m
13h 24m
5.45
73
Ruby
3/11 17:47:00
11
3/12 01:58:00
10
8h 11m
13h 40m
5.12
70
Galena
3/12 07:25:00
10
3/12 12:17:00
10
4h 52m
5h 27m
9.17
50
Nulato
3/12 17:26:00
10
3/12 21:44:00
10
4h 18m
5h 9m
7.18
37
Kaltag
3/13 01:40:00
10
3/13 07:01:00
9
4h 21m
3h 56m
11.95
47
Unalakleet
3/13 20:11:00
9
3/14 01:06:00
7
4h 55m
13h 10m
6.46
85
Shaktoolik
3/14 09:17:00
7
3/14 12:43:00
7
3h 26m
8h 11m
4.89
40
Koyuk
3/14 18:14:00
7
3/15 04:16:00
7
10h 2m
5h 31m
9.06
50
Elim
3/15 09:14:00
7
3/15 10:45:00
7
1h 31m
4h 58m
9.66
48
White Mountain
3/15 15:56:00
7
3/15 23:57:00
7
8h 1m
5h 11m
8.87
46
Safety
3/16 05:21:00
7
3/16 05:22:00
7
0h 1m
5h 24m
10.19
55
Nome
3/16 07:48:34
7
2h 26m
9.04
22