By Martha Dobson, Iditarod Journalist…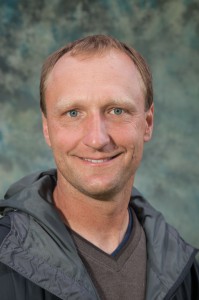 Hard work. Work hard. Eight letters, two words, forwards and backwards, sum up training a dog team, driving a dog team, racing a dog team. Charley Bejna (bay-na) of Addison, Illinois knows what hard work is and how to work hard.
Thirty-nine years old, Bejna started Charley's Landscaping Company as a high school student, working seven days a week. A self-described hardworking person, Bejna says "When I put my mind to something I want to do, I work hard to get it done." Self-employed for 21 years now, he grew his landscaping business to the point that seven years ago, he was able to travel to Alaska and begin working hard to run dogs and qualify for Iditarod 2013.
Traveling to Alaska in 1991 with his dad and making two more trips with him was the beginning of Bejna's attraction to the Last Frontier. After watching the 2006 Iditarod, he was Bruce Linton's IditaRider in 2008 and his tag sled driver in 2009. (The tag sled is attached at the rear of the first sled, as seen in the Iditarod Ceremonial Race Start.) Handling for G.B. Jones and working as his tag sled driver for Iditarod 2011 cemented Bejna's interest in racing.
The adventure of running dogs and spending time with them draws Bejna to this sport. Finishing races, seeing how the training pays off rewards him for the challenge of getting his dogs in shape and training them to work as a team. Racing in the Willow Tug 300 in 2011, the 2012 Knik 200 and the Northern Lights 300 qualified Bejna for the 2013 Iditarod.
Added to the hard work of working hard with his dogs is managing his diabetes to keep his blood sugar at the right levels. Testing his sugar levels on the trail, in the cold, is difficult, but Bejna says while it's an extra thing for him to do, he doesn't let it stop him. Preventing the insulin in his pump from freezing is challenging in the severe cold; keeping it as close to his body as possible where his body temperature keeps it thawed is his goal. "If you have a medical condition, you can still live the same quality of life as long as you take the extra steps to maintain your health," Bejna says.
How does Bejna maintain his kennel in Alaska and his landscape business in Illinois? Landscape work, for him, is April through September, with John Hitzker running the business when he is in Alaska October through March at his kennel.  G.B. Jones cares for Bejna's dogs when Bejna is in Illinois. Bejna also credits Jason Tranchitella who builds necessary structures at the kennel, and he says he'd have to give credit to himself, too, since he has worked a lot to afford to run dogs.
Asked what one message he has for others, Bejna returns to hard work. "If you have a goal in life, work hard enough to get it done. Never give up."
Learn more about Charlie at this link.
* Discover information about  the IditaRider program and get ready to bid on a ride at the start of the 2013 Iditarod by visiting this link!  The bidding starts November 1, 2012