5 – 4 – 3 – 2 – 1  GO!
Go!  It may be a little word but it is a word filled with big time power,  the power of a dozen huskies pulling a sled on an 11 mile trail at the start of "The Last Great Race on Earth®".
"Go!" is the the word Iditarod mushers are waiting to hear!  The dogs, the fans, the handlers, Iditarod staff, volunteers, and the IditaRiders are anxious for the start of the race, too. 

IditaRiders are the lucky winners at the IditaRider Auction.  Each IditaRider has bid and won the adventure of a lifetime; a ride in a musher's sled at the Ceremonial Start of the race.
Each musher leaving the chute carries a very special passenger along for an 11 mile adventure on a trail lined with excited race fans.  The IditaRider is the passenger who is seated in the sled and rides with the musher at the start of the Iditarod.  This 11 mile ride is purchased during  the IditaRider Auction which runs from December to January 16.  To be an IditaRider, you need to be the winning bidder.  The auction will close on January 16.  We are grateful to each IditaRider, past, present, and future for their financial support of Iditarod.
The mushers and their IditaRider will be catching muffins that are tossed in the air and waving back to the fans who line the trail to wish mushers good trail. Often the IditaRider is assigned the job of tossing dog booties to the children seen along the way. Bundled in the sled pulled by the energetic huskies and carrying a camera or cell phone, every minute of the adventure will be captured by a cell phone or video camera.
Testimonials and stories from our IditaRider Alumni
The IditaRider experience is an incredible adventure.  Don't just take our word for it.  Here's what past  IditaRiders have to say!
A message to bidders from Brenda, a past  IditaRider…
The final day of the 2014 Iditarider bidding is approaching rapidly.  I remember that day quite well for my 2010 ride.  There was a great deal of apprehension.  What if my computer quits?  What if I hit the wrong button?  What if I have to go to the bathroom?  What if somebody comes to the door?  Thankfully, none of those things happened and after a lively session with another bidder,  I was a 2010 Iditarider with my first choice musher!
Robert Nelson of Kotzebue and his team of big, energetic dogs gave me a fantastic ride and a once-in-a-lifetime experience.  The lead dog, Smoke, kept looking back at Robert to ask why we were going so slow.  I felt like we were flying!  Robert and his father Louie, a long-time Iditarod veteran, made me feel like part of the family.   I couldn't stop smiling, which could be somewhat hazardous when seated directly behind a team of running dogs!  I still smile, or laugh, every time I think about the entire experience or look at my mementos!  Unfortunately, due to a computer virus, I lost my pictures and can't share any with you. (Yes, I admit it, I did cry when that happened.)
If you are bidding this year, I wish you the best of luck!  Being an Iditarider is an experience you will never forget or regret.   Enjoy!!
Brenda
View this video to learn what Jan, a past  IditaRider had to say about her experiences.
Meet Anita and Laura, a mother and daughter who experienced the 2013 IditaRider Adventure.
My daughter, Laura, who rode with Kelly Maixner and I rode with Martin Buser.  This was a "Family Experience", a "Mother-Daughter Experience," and a "Hero / Fan Experience" all in one!
I must say that this trip was extraordinary in every way, and I look forward to returning in 20 years to repeat my most exciting time with Martin!
An Epic Iditarod Experience
"Haw, haw," Martin Buser commanded his dogs, and turning a bit to the left, the team seemed to be going straight for the crowd!  Then "Gee, gee!" and the lead dogs bulleted a hard 90 degree right turn, and the swing, the team and the wheel dogs supported the strong leaders in the task to make the turn without overturning the sled.  "What just happened?" I wondered, and then immediately knew I had just witnessed the confidence, training, teaming, and communication that worked in perfect harmony to get the dogs, musher and cargo (ME in the sled) perfectly and safely around that corner.
For twenty years I dreamed of having an opportunity to participate in the Iditarod in some way. I had taught my third graders about "The Last Great Race," and before computers, I had phoned from Colorado to the race headquarters in Alaska for race updates. Over the years, I read everything I could get my hands on, including a collection of personal accounts in Iditarod Classics, as well as books written by Jeff King, Dee Dee Jonrowe, Libby Riddles, and Susan Butcher. I learned about the harrowing experiences on the race trails as I read about the moose attacks, the loyal dog teams and the severe weather conditions that challenged the mushers with those dog teams.  I followed the races for years, and in reading the reports, wondered why anyone would ever participate in this grueling experience more than one time! At the same time, I developed a deep admiration for the mushers and for their athletic dog teams.
During the first weekend in March 2013, my Iditarod dream came true.  Not only did my daughter purchase a ride experience for herself with Kelly Maixner through the IditaRider auction, but she also bought a ride for me in Martin Buser's sled.  I was actually going to take part in the ceremonial start with my Iditarod hero!
It was a perfect day in the mid twenties!  In preparation for the start, the mushers, along with their trucks with dog teams, plus hundreds of fans lined the busy street in downtown Anchorage. Martin had drawn the #2 starting position, and when the announcer mentioned, "Just two words, ladies and gentlemen…"MARTIN BUSER", the crowds cheered and whistled while the dogs jumped and barked their way to the starting position.  Those dogs couldn't wait to GO, and GO we did, right down those crowded streets until I hung on for dear life while rounding the 90-degree turn. With Martin constantly praising his dogs and encouraging their good work, we followed behind the dog team through the beautiful Alaskan countryside for thirteen incredible miles.  What a thrill!
This was my 70th birthday trip, and it was the most extraordinary trip I have ever had the privilege of experiencing!  I thank my daughter for purchasing the chance for me to participate, as my husband, son, daughter and I had a wonderful time meeting the most famous, as well as the upcoming mushers.  I also thank the incredible team of volunteers that help make this annual event a reality. I will be viewing future races through computer coverage, and will be watching to see that Martin achieves his goal to participate in 50 Iditarod events! When he achieves that goal, I will be celebrating my 90th birthday, so perhaps I will join him again in Anchorage for another ride down Fourth Street!
My best wishes go to every racer and tog team entering the Iditarod. I hope every IditaRider has a magnificent experience in the ceremonial start, and I hope that every musher arrives safely in Nome.  
Anita, 2013 Martin Buser IditaRider
June Shelley's IditaRider Story
I have been an Idita-Rider three times and loved the experience every time.  I urge anyone who can, to try and have the experience.  It starts on Thursday with that exciting meet with "Your Musher" at the pizza lunch.  Then at the Banquet that same night you find out what position you and your musher will be starting in.  The instruction meeting and demonstration outside with an actual sled are interesting and fun.  And if you are lucky, like I was, you will make lifelong friends. And get to know all their dogs.  The Ceremonial start on Saturday is a whirlwind of sounds and people and dogs and it is a thrill as you pass through the start to hear your name announced as the Idita-rider.  The next two hours are magical as you leave the town and go through the woods. 
 
I first rode with Cindy Gallea and later visited her in Montana.  The next year I got to ride with Lance Mackey, sat with the whole Mackey family at the Banquet and got to see him at the McGrath Checkpoint.  This was just a few months after his treatment for cancer.  Lance and I have been friends ever since and a few years ago, my husband Jim and I visited Lance's kennel in Fox, near Fairbanks. In Nome, Jim looked after Larry, Lance's famous lead dog when he was left behind during the All Alaska Sweepstakes.  Larry had just run the Iditarod and Lance thought he deserved a rest.  Larry didn't think so and Jim spent a lot of time trying to cheer up this wonderful dog.
 
G.B. Jones was the third musher I got to ride with and we became immediate buddies.  Over the years I have seen G.B. many times, summer and winter, and would not visit Alaska without visiting him at his kennel near Wasilla.
It's a special treat to be an Idita-Rider, as you really feel you are part of the Iditarod!
June Shelley
Teresa and Jan Steves become friends through the IditaRider Program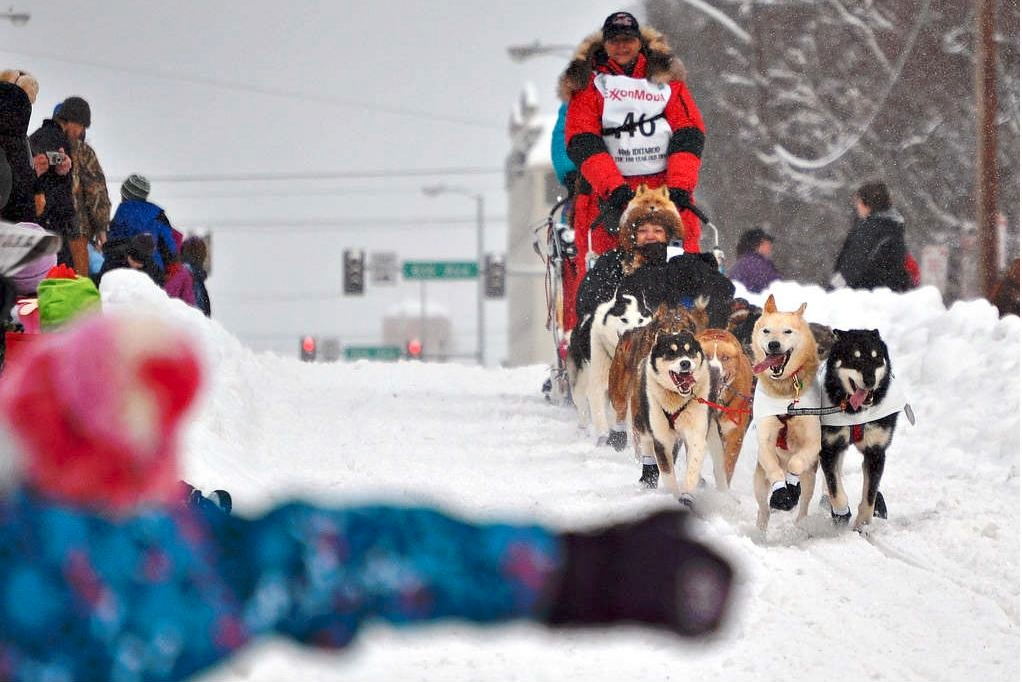 I'm Teresa Cooper from North Carolina.  I've followed the Iditarod for years but never dreamed I would be involved in the race.  In 2012, encouraged by my husband, I chose musher Jan Steves to support and bid on her sled.  I chose Jan because she said it was her dream to run the Iditarod. It was my dream to go to Alaska and be a part of the race.  I won the bid on Jan's sled and she and I shared our dream together.  It was the most incredible experience of my life!  I also worked as a volunteer for that race and that experience was also very memorable.
Jan and I have remained close friends ever since that race and I can't thank her enough for my experience.  In fact, my husband and I are going to Anchorage to enjoy the 2014 Iditarod festivities and to give Jan a great send off for her third Iditarod.
I have included one of my favorite pictures of Jan and I during the ceremonial start.
Teresa Cooper
An IditaRider Story from Cee
I was an Iditarider in 2008. My Musher was Ken Anderson. I have followed him since & wish him & his wife, Gwen & family well. Always rooting. 
I knew when I received word that I was going to be an Iditarider that it was something special but I didn't realize how special the experience would really be. I volunteered at other aspects of the Iditarod and enjoyed them all but nothing compared to "The Ride". 
I met Ken at the lunch, he's a very quiet man, confident but shy. We had a nice discussion and Hugh Neff stopped by and the conversation turned very lighthearted. When I met Ken for my ride I was on the street quite early in the morning. The dogs were just being pulled from their kennels. Gwen was out helping him along with a couple others. His mother was there and introduced herself & her husband to me along with some other friends. 
I was impressed with the lack of celebrity that abounded the whole venue. Everything amped up as we approached the starting line. It was very cold but I didn't notice at all. I was in 7th heaven. I think it was around that time that I realized that there probably only about 3000 other people that had ever done what I was about to do. It really made me realize how special a day this was going to be. 
We approached the Start Line and off we went. As we traveled along Ken kept up the conversation as he described the ride, the dogs, the sled, his approaches. One of the sleds had seen Moose in the woods. We kept an eye out but couldn't see any. 
I was sad to see us approach the airport as I knew this special day was coming to an end… at least my special part of it was. There were so many other people behind us and along the route that as we watched others come in it just increased my excitement for the next day at Wasilla. 
I've attached a couple photo's. One of Ken and I at the luncheon and one I took while we crossed the Tudor Bridge. To me it proved that the view wasn't necessarily always the same if you weren't lead dog. 
I wish I could be there every year and ride every year but all I have to do is put on one of my shirts; my jacket; or look at the pictures & I feel as if I'm experiencing it again. 
Thanks for letting me share,
Cee Scherb
The Iditarod Trail Committee is a 501 (c)(3) non profit organization.
Proceeds raised through our auctions help support the Iditarod Trail Sled Dog Race.
Thanks for your support!
What does it take to get the mushers the starting line and stage a race from Anchorage to Nome?
The Iditarod staff work year round to plan, organize, maintain, and stage the Iditarod.  Hundreds of volunteers provide assistance before, during, and after the race.  Without the help of the volunteers, the race could not exist.  Of course, financially, the race gets assistance through our sponsors, our ITC membership, sales, donations, and through important fundraisers such as the IditaRider Auction and our Raffe Ticket sales.  Without financial support from sponsors, donations, purchases at our store or Iditarod Insider subscriptions, fundraisers, and raffles, the funds necessary for operations would not be in place.  We are grateful for every single act of financial support we receive. Thanks for supporting Iditarod!
What does it take to for the mushers to get to the starting line?
For the rookie musher, the sound of "GO!"  creates the moment when a true dream begins and reality sets in as the team leaves the starting  chute for a race across Alaska.  Getting to the starting line has taken a great deal of financial support and a enormous amount of dedication and hard work.  There is no easy "trail" to take to get to that starting line, as a matter of fact, there have been 'trails' of training, racing, goal setting, planning, dreaming, organizing, and more hard work than imaginable .
For the veteran mushers— they know that when they hear, "Go!" they are officially, 'at it again' and racing across Alaska headed for Nome.
For veterans and rookies alike, with the "Go!", the race is on and no one knows what exact challenges will be faced, but each racer is determined and empowered to face what is before them.
The race begins in downtown Anchorage on March 7 with the Ceremonial Start.  This 11 mile run is not a part of the actual race nor is the time it takes to travel the 11 miles a part of the racing statistics.  This 11 mile run is a celebration of "The Last Great Race on Earth®"  The race Restarts on Sunday, March 8, in Willow, Alaska.