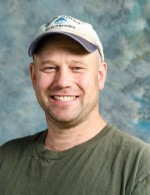 Biography
Ramey Smyth, 38, was born and raised in Alaska, the son of Iditarod veterans Bud Smyth and the late Lolly Medley. His father, Bud Smyth, raced in the first Iditarod, and his mother, Lolly Medley, raced in the second Iditarod. Ramey has lived all over the State and says he moved to Willow to put down roots and build a home for his wife and children. He says he's been mushing since he was "born." He ran the Jr. Iditarod twice and won both times. He ran his first Iditarod in 1994 and has only skipped one year since. He is a log builder and dog musher. He says that his hobbies are family and all sports. "I love that my family can be so involved in this sport as they all love dogs. I would like to bring awareness to the need for cancer research funding. I am running under the banner of abstinence from drugs and alcohol." Ramey and his wife, Rebecca, are the parents of Ava, 7 and Banyan, 3.
Sponsors
Alaska Communications
Steve Ripp & Carol Spicuzza, WI
First Tool Corp., OH
Non-stopdogwear.no, NORWAY
Douglass Burger
Dr. Tim's Petfood
Dennis and Candace Weidler
Leed Brothers Productions, CA
Rose Albert
Jim, Sharon & Joe Rosteck, MT
Dennis, Amy, Bennett & Kylee Hicks, RI

Roy and Cheryl Hull, CA
Jerry Holbrook
Matt Wagner
Jessica Manifold
Mark, Julie, Jack, Chase & Leif Laker
Pam Aviza
Marguerite Goodman
Abe Harms Smyth
Louise Midkiff
Sarah and Isaiah Peter
Liz Kugzrak & Robert Sherman Jr.
Awards
Fastest Time from Safety to Nome — Sponsored by Nome Kennel Club


2013 Standings
Checkpoint
Time In
Dogs In
Time Out
Dogs Out
Rest Time
Previous
Layover
Status
Distance
Enroute Time
Speed (mph)
8hr
24hr
Anchorage
3/02 11:12:00
12
Willow
3/03 15:12:00
16
Yentna
3/03 19:33:00
16
3/03 19:40:00
16
0h 7m
4h 21m
9.66
42
Skwentna
3/03 23:09:00
16
3/04 04:58:00
15
5h 49m
3h 29m
8.61
30
Finger Lake
3/04 09:42:00
15
3/04 09:47:00
15
0h 5m
4h 44m
8.45
40
Rainy Pass
3/04 18:40:00
15
3/04 18:41:00
15
0h 1m
8h 53m
3.38
30
Rohn
3/04 23:58:00
15
3/05 00:28:00
15
0h 30m
5h 17m
6.62
35
Nikolai
3/05 14:11:00
15
3/05 19:31:00
14
5h 20m
13h 43m
5.47
75
McGrath
3/06 02:03:00
14
3/06 02:13:00
13
0h 10m
6h 32m
7.35
48
Takotna
3/06 04:37:00
13
3/07 05:35:00
13
24h 58m
2h 24m
7.50
18
Ophir
3/07 08:21:00
13
3/07 08:27:00
13
0h 6m
2h 46m
8.31
23
Iditarod
3/07 23:30:00
13
3/08 05:30:00
13
6h 0m
15h 3m
5.32
80
Shageluk
3/08 14:08:00
13
3/08 22:09:00
12
8h 1m
8h 38m
6.37
55
Anvik
3/09 02:12:00
12
3/09 02:24:00
12
0h 12m
4h 3m
6.17
25
Grayling
3/09 05:12:00
12
3/09 06:29:00
12
1h 17m
2h 48m
6.43
18
Eagle Island
3/09 19:17:00
12
3/09 19:26:00
11
0h 9m
12h 48m
4.84
62
Kaltag
3/10 07:05:00
11
3/10 14:15:00
10
7h 10m
10h 39m
5.63
60
Unalakleet
3/11 03:14:00
10
3/11 10:01:00
10
6h 47m
12h 59m
6.55
85
Shaktoolik
3/11 15:53:00
10
3/11 17:18:00
10
1h 25m
5h 52m
6.82
40
Koyuk
3/11 23:37:00
10
3/12 04:21:00
9
4h 44m
6h 19m
7.92
50
Elim
3/12 11:01:00
9
3/12 12:03:00
8
1h 2m
6h 40m
7.20
48
White Mountain
3/12 18:38:00
8
3/13 02:38:00
8
8h 0m
6h 35m
6.99
46
Safety
3/13 09:33:00
8
3/13 09:35:00
7
0h 2m
6h 55m
7.95
55
Nome
3/13 11:54:56
7
2h 19m
9.50
22