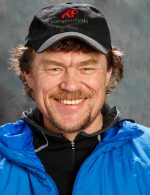 Biography
Lars Monsen was born in Oslo, Norway, in 1963. He has been mushing since 1997 and has completed the Femundløpet 600 eight times and the Finnmarksløpet 1000 five times. He has been a full time adventurer since 1991 and has spent more than 4,500 nights in a sleeping bag, more than half in extreme winter conditions.
Lars Monsen has produced 12 national television series and written some 20 books. His trademark is "long expeditions." He crossed Canada on foot, canoeing and dog sledding in 947 consecutive days. A similar Across Alaska Expedition lasted 10 months. He has bushwacked on foot across Kodiak and Admiralty, and through Katmai, and has canoed several Alaskan and Canadian rivers. He has led two 30 days expeditions with 11 disabled people through the Scandinavian wild, and been on many 30-60 days bushwacking expeditions north of the Arctic Circle in Scandinavia.
In summer, if he is not on an expedition, Lars teaches survival skills, both to ordinary outdoors people and to elite soldiers. He is married to San Francisco-born singer Trine Rein (www.trinerein.com), and they live one hour drive from Oslo, Norway.
Sponsors
Scandinavias best online shop for outdoors people: www.komplettfritid.no
VOM frozen meat dog food
Purina Pro Plan kibble
Dr. Baddakys Fish Oil

Polaris Norway ATVs
Troll Dog Harnesses
Dog booties from www.hundekjorerbutikken.no
2017 Standings
Checkpoint
Time In
Dogs In
Time Out
Dogs Out
Rest Time
Previous
Layover
Status
Distance
Enroute Time
Speed (mph)
8hr
24hr
Fairbanks
3/06 12:26:00
16
Nenana
3/06 18:05:00
16
3/06 21:32:00
16
3h 27m
5h 39m
10.62
60
Manley
3/07 10:11:00
16
3/07 10:32:00
15
0h 21m
12h 39m
7.11
90
Tanana
3/07 23:14:00
15
3/08 05:15:00
15
6h 1m
12h 42m
5.20
66
Ruby
3/09 02:27:00
15
3/09 10:33:00
13
8h 6m
21h 12m
5.61
119
Galena
3/09 16:49:00
13
3/10 17:45:00
13
24h 56m
6h 16m
7.98
50
Huslia
3/11 07:20:00
13
3/11 07:32:00
13
0h 12m
13h 35m
6.04
82
Koyukuk
3/12 01:25:00
13
3/12 08:00:00
12
5h 35m
17h 53m
4.81
86
Nulato
3/12 10:25:00
12
3/12 10:27:00
12
0h 2m
2h 25m
9.10
22
Kaltag
3/12 15:10:00
12
3/12 19:47:00
10
4h 37m
4h 43m
9.96
47
Unalakleet
3/13 10:00:00
10
3/13 12:21:00
10
2h 21m
14h 13m
5.98
85
Shaktoolik
3/13 18:44:00
10
3/13 23:44:00
10
5h 0m
6h 23m
6.27
40
Koyuk
3/14 05:33:00
10
3/14 05:39:00
10
0h 6m
5h 49m
8.60
50
Elim
3/14 12:37:00
10
3/14 15:45:00
9
3h 8m
6h 58m
6.89
48
White Mountain
3/15 04:06:00
9
3/15 12:06:00
9
8h 0m
12h 21m
3.72
46
Safety
3/15 19:52:00
9
3/15 19:53:00
9
0h 1m
7h 46m
7.08
55
Nome
3/15 23:01:58
9
3h 8m
7.02
22