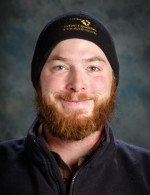 Michael Baker
Bib Number:
61
Hometown:
Willow, Alaska
Biography
Michael, 29, was born and raised in Denver, Colorado. He began working as a dog handler for Gold Rush Dog Tours/Alaska Icefield Expeditions out of Juneau, AK in 2009. Michael joined forces with 17th-Dog in 2014, and has been Matthew's right-hand man ever since; "He's a tremendous help, a top-notch dog handler and musher, and I'm very happy he joined the team. I couldn't do this without him" says Matthew.
Making the move North to pursue the sled dog lifestyle is a calculated maneuver that Michael hopes will demonstrate to his beloved son Siris, that through hard work and determination, dreams can come true and you can do anything you put your mind to. Michael has high hopes to move back to the lower 48 to be with Siris and eventually establish his own kennel. Michael is dedicating this rookie run to Nome to his son.
Michael loves spending time outdoors, fishing, hiking and running dogs. His other hobbies include cooking, baking, woodworking and music. Michael's race history thus far has been in the Knik 200, Copper Basin 300, Northern Lights 300, Denali Doubles and the Aurora 50/50. Michael will be running a puppy team out of 17th-Dog/TMF as a rookie in Iditarod 2017.
Sponsors
Gold Rush Sled Dog Tours
Alaska Icefield Expeditions
17th-Dog/TMF
K2 Woodworking
Wool-X

Michael O'Machearley Custom Knives
Highs Adventure Kennel & Gear
Seiler & Associates, LLC
17th-Dog Booster Family
2017 Standings
Checkpoint
Time In
Dogs In
Time Out
Dogs Out
Rest Time
Previous
Layover
Status
Distance
Enroute Time
Speed (mph)
8hr
24hr
Fairbanks
3/06 12:58:00
16
Nenana
3/07 02:00:00
16
3/07 02:00:00
16
0h 0m
13h 2m
4.60
60
Manley
3/07 18:18:00
16
3/08 03:01:00
14
8h 43m
16h 18m
5.52
90
Tanana
3/08 14:42:00
14
3/08 22:45:00
14
8h 3m
11h 41m
5.65
66
Ruby
3/09 23:48:00
14
3/10 05:54:00
14
6h 6m
25h 3m
4.75
119
Galena
3/10 13:11:00
14
3/11 14:00:00
13
24h 49m
7h 17m
6.86
50
Huslia
3/12 06:41:00
13
3/12 15:36:00
13
8h 55m
15h 41m
5.23
82
Koyukuk
3/13 08:32:00
13
3/13 15:54:00
13
7h 22m
16h 56m
5.08
86
Nulato
3/13 17:55:00
13
3/13 17:59:00
13
0h 4m
2h 1m
10.91
22
Kaltag
3/13 22:07:00
13
3/14 05:22:00
13
7h 15m
4h 8m
11.37
47
Unalakleet
3/14 22:10:00
13
3/15 06:24:00
12
8h 14m
16h 48m
5.06
85
Shaktoolik
3/15 11:48:00
12
3/15 19:53:00
11
8h 5m
5h 24m
7.41
40
Koyuk
3/16 01:13:00
11
3/16 15:08:00
10
13h 55m
5h 20m
9.38
50
Elim
3/16 20:25:00
10
3/17 05:29:00
10
9h 4m
5h 17m
9.09
48
White Mountain
3/17 10:53:00
10
3/17 23:09:00
10
12h 16m
5h 24m
8.52
46
Safety
3/18 05:18:00
10
3/18 05:19:00
10
0h 1m
6h 9m
8.94
55
Nome
3/18 08:16:33
10
2h 57m
7.46
22