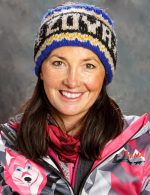 Biography
Zoya DeNure, 40, was born and raised in Wisconsin. She spent 12 years in the fashion industry working primarily as a runway & fashion model. In 2002, tired of the pressures and triviality of that lifestyle, she rented a storage unit in Madison, Wisconsin, stacked it with furniture, shoes, dresses, and headed to Alaska with a carry-on and the dream of running, living and breathing sled dogs. Her Siberian husky, Ethan, traveled with her.
Ethan has since passed, but the dream is still alive. Zoya is married to fellow dog driver John Schandelmeier, and now splits her time between homes at Maclaren River and Delta Junction, Alaska. She has two daughters; Jona, eight and Olivia, three. The family operates a rescue/rehab facility for unwanted sled dogs and is striving to focus attention on positive training techniques. Zoya loves the sport of sled dog racing, enjoys time on the trail with her team and is determined to succeed in the Iditarod.
Zoya had some initial success racing sled dogs, finishing her rookie year, but has had several rocky years in her Iditarod quest since. She is determined to turn it around in the 2017 Iditarod and is embarking on an ambitious training regimen with a respectable Iditarod finish in mind.
2017 Standings
Checkpoint
Time In
Dogs In
Time Out
Dogs Out
Rest Time
Previous
Layover
Status
Distance
Enroute Time
Speed (mph)
8hr
24hr
Fairbanks
3/06 12:20:00
16
Nenana
3/06 18:12:00
16
3/07 00:34:00
16
6h 22m
5h 52m
10.23
60
Manley
3/07 16:11:00
16
3/07 23:56:00
16
7h 45m
15h 37m
5.76
90
Tanana
3/08 07:51:00
16
3/08 18:47:00
15
10h 56m
7h 55m
8.34
66
Ruby
3/09 16:43:00
15
3/10 01:45:00
15
9h 2m
21h 56m
5.43
119
Galena
3/10 07:34:00
15
3/10 13:35:00
14
6h 1m
5h 49m
8.60
50
Huslia
3/11 05:02:00
14
3/12 07:09:00
14
25h 7m
15h 27m
5.31
82
Koyukuk
3/13 01:46:00
14
3/13 11:30:00
13
9h 44m
18h 37m
4.62
86
Nulato
3/13 13:46:00
13
3/13 16:40:00
13
2h 54m
2h 16m
9.71
22
Kaltag
3/13 20:42:00
13
3/14 04:44:00
13
8h 2m
4h 2m
11.65
47
Unalakleet
3/14 21:20:00
13
3/15 06:45:00
13
9h 25m
16h 36m
5.12
85
Shaktoolik
3/15 11:44:00
13
3/15 19:33:00
12
7h 49m
4h 59m
8.03
40
Koyuk
3/16 00:58:00
12
3/16 10:15:00
12
9h 17m
5h 25m
9.23
50
Elim
3/16 15:49:00
12
3/16 22:50:00
12
7h 1m
5h 34m
8.62
48
White Mountain
3/17 05:12:00
12
3/17 13:59:00
12
8h 47m
6h 22m
7.23
46
Safety
3/17 21:06:00
12
3/18 04:40:00
12
7h 34m
7h 7m
7.73
55
Nome
3/18 07:24:25
12
2h 44m
8.05
22