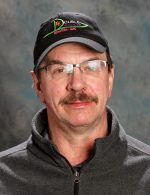 Alan Eischens
Bib Number:
35
Hometown:
Wasilla, Alaska
Biography
Alan Eischens, 56, was born in Park Rapids, Minnesota and was raised in Adak, Alaska. He spent his summers as a child going back to Park Rapids to visit his grandparents. He graduated from Adak High School in 1997. While living out in Adak, he had the privilege to work with Fish and Game on several different projects. This is when he decided he wanted to pursue a degree in Biology and Anthropology. While attending UAF, he decided to visit St. Lawrence Island and stayed for 10 ½ years. While out in Savoonga, he was supervisor for the city maintenance and construction sites.
In 1989, he moved to Wasilla, where he still resides with his wife, Tangala. Alan has a great love for the outdoors. From 1989 to 1997, he and his dad commercial fished out of Homer while continuing to build houses in Anchorage and Wasilla.
Alan was the head checker at Caribou Lake checkpoint for the Tustumena 200 race for over 15 years. This is where he decided that one day he would run the Iditarod. In 2011, Alan's journey began. He and Tangala started Double E Kennel. His platform is to bring awareness to pediatric diseases. While out training or running races, all his miles are dedicated to these children who have or have had these diseases. "Our children are our future, and we must all be aware of the terrible diseases that are out there, that our children are fighting against."
Alan enjoys hunting, fishing and travelling with Tangala. They have a combined family of 6 children and 18 grandchildren.
Sponsors
Alaska Warm & Kozy
Dr. Jansma Family
Kirk & Katie Sanderson

Advanced Data & Fiber
PCMD Compter Solutions
Backcountry Warriros, LLC
2017 Standings
Checkpoint
Time In
Dogs In
Time Out
Dogs Out
Rest Time
Previous
Layover
Status
Distance
Enroute Time
Speed (mph)
8hr
24hr
Fairbanks
3/06 12:06:00
16
Nenana
3/06 19:14:00
16
3/07 01:16:00
16
6h 2m
7h 8m
8.41
60
Manley
3/07 17:37:00
16
3/08 01:28:00
16
7h 51m
16h 21m
5.50
90
Tanana
3/08 09:25:00
16
3/08 20:15:00
16
10h 50m
7h 57m
8.30
66
Ruby
3/09 17:13:00
16
3/10 01:56:00
16
8h 43m
20h 58m
5.68
119
Galena
3/10 08:01:00
16
3/11 10:30:00
16
26h 29m
6h 5m
8.22
50
Huslia
3/11 23:50:00
16
3/12 09:24:00
16
8h 34m
13h 20m
6.15
82
Koyukuk
3/13 01:45:00
16
3/13 01:50:00
16
0h 5m
16h 21m
5.26
86
Nulato
3/13 04:20:00
16
3/13 13:15:00
16
8h 55m
2h 30m
8.80
22
Kaltag
3/13 19:56:00
16
3/14 02:00:00
16
6h 4m
6h 41m
7.03
47
Unalakleet
3/14 21:24:00
16
3/15 18:45:00
16
21h 21m
19h 24m
4.38
85
Shaktoolik
3/16 00:15:00
16
3/16 11:13:00
16
10h 58m
5h 30m
7.27
40
Koyuk
3/16 16:31:00
16
3/16 21:59:00
16
5h 28m
5h 18m
9.43
50
Elim
3/17 03:54:00
16
3/17 12:49:00
16
8h 55m
5h 55m
8.11
48
White Mountain
3/17 19:10:00
16
3/18 04:14:00
16
9h 4m
6h 21m
7.24
46
Safety
3/18 11:09:00
16
3/18 11:09:00
16
0h 0m
6h 55m
7.95
55
Nome
3/18 14:39:46
16
3h 30m
6.29
22