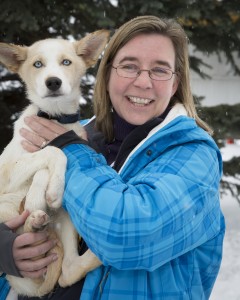 Jennifer Reiter has been selected as the Iditarod Teacher on the Trail™ for the 2014 Iditarod.
Jen Reiter is a third grade teacher at Gilman School, an independent boys' school in Baltimore, Maryland.  She began her teaching career in 1993 in public schools and moved to the independent schools in 2000.  She holds an undergraduate degree from Towson University with dual majors in Early Childhood Education and Dance Performance, Education, and Choreography and a MA from Johns Hopkins University in Gifted Education.
The Iditarod is deeply infused in her curriculum and reaches its apex in a nearly three month math curriculum centered on the sport of mushing and the Iditarod.  The Iditarod is a natural fit for her boys and all students – dogs, adventure, and racing – what else could anyone ask for?  It is also the perfect way for her students to be exposed to the character development ideals of honor, integrity, respect, humility and excellence. 
Jen will travel to Alaska in June to attend the 2013 Iditarod Summer Camp and begin her official training and role as the Iditarod Teacher on the Trail™.  Starting in June, Jen will begin her job and begin updating the website information, articles, and lesson ideas for classrooms around the world. During the race, Jen will travel by small plane to the checkpoints and share race observations and experiences via the website.  Thousands of teachers around the globe will share information about the Iditarod with students, leading students on an incredible journey of Iditarod based lessons that lead student down a trail to academic success.
Jen is one of three finalists who visited Alaska prior to the start of the 2013 Iditarod.  Along with Susan Smith and Shannon Wyckoff, the finalists participated in a variety of activities associated with the Winter Conference for Educators and the Start and ReStart of Iditarod.  A five member education committee selected Jen who will begin her job in June.
Linda Fenton, Waupaca, WI, was the 2013 Iditarod Teacher on the Trail™.  Read about Linda's experiences and her journey along the Iditarod Trail. Thanks, Linda, for an incredible job as the 2013 Teacher!
*Learn more about Jen Reiter and the Teacher on the Trail™ program at this link.