Time to put my writing hat back on after briefly leaving my armchair to climb over Rosebud and Eagle Summit during the Quest 300. Running a team of yearlings was entertaining at times, yet rewarding seeing them mature a bit. It was sure nice to see that beautiful part of interior Alaska again. Fellow Iditarod musher Aliy Zirkle ran a fantastic Quest 300 and claiming the victory after missing out by mere seconds to Iditarod Musher Michelle Phillips last year in Pelly Crossing.  
Trail conditions from Fairbanks to Circle were excellent. The recent thaw left a super hard packed trail with surprisingly little overflow. Fast trails are great, they make a mushers life much easier, but they are also challenging in the respect, that it is very easy to get carried away and let a team go too far too fast too soon. That results in sore wrists and swollen feet. Once again SP Kennels is in the top positions in both of the Quests.
Allen Moore sure has his work cut out though to keep up with Iditarod Rookie of the year from 2012, Brent Sass. He placed 13th that year and is signed up to the " the Double " again this season. Currently Brent is leading the Yukon Quest by 2.5hrs over Allen, followed by Hugh Neff another 1.5hrs behind. Brent claimed the first to Dawson City award, $ 5000 worth of placer gold donated by Joe and Wendy Feller, long time Dog Mushing supporters. Historically, the musher first making it to Dawson City very rarely, if ever, made it also to the finish line in first place.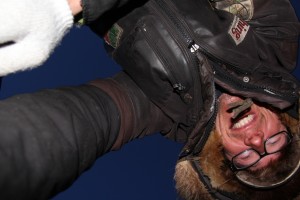 But somehow I have the feeling that 2014 might become an exception to that rule.  What Brent has just pulled off is pretty amazing. He started the Quest relatively conservative with keeping his runs around 6 to 7hrs in lengths and avoiding the checkpoints. Coming into Circle I did notice a camping spot about 1.5hrs before the checkpoint and really wondered who camped there.  The fire pit suggested it was Brent, as he likes to do that, keep a nice fire going. Brent ran from that Camp Spot, about 15 miles before Circle all the way to Slavens Cabin. That turned the usual 65 mile run into a 80 mile run. That is a long run by most peoples standards. But for Brent that was just the beginning. Till this point Allen and Hugh stayed within half an hour of him, specially Hugh cutting his rest in Slavens so he could leave close to Brent. From Slavens Brent ran straight past Kandik River Cabin, past Mike Sagers famous hospitality at Trout Creek ( ohhhh I can smell his moose stew ) all the way to Eagle. Now heck, that is a 105 mile run over some pretty challenging trail. The Yukon River is very wind blown in that area, going around the bluffs the wind is just howling. Lots of exposed gravel and rocks. It's a mere feat to keeping booties on a team for 100 miles in those conditions, but also keeping them hydrated.  In Eagle there is a mandatory 4 hr layover and Brent did not take one minute more. Normally it is a 150 mile run over American Summit to Dawosn. It used to be run in 3 equal about 50 mile long runs. Than a few years ago we started doing that in two long 75 mile runs with a relatively short 2.5hrs or sometimes 4hrs break to Dawson, knowing there would be a full 36 hrs to regrup there. This year Amercian Summit got taken out of the race, due to impassable overflow. On this note I am beginning to wonder how much and what kind of trail re-routing we might encounter in Iditarod. Conditions are challenging up north right now, but than again as I type this nice light snow is falling. Back to the subject. After pulling of these 2 long runs, and for sure catching Hugh and Allen by surprise with that, Brent goes on to add a 3rd nonstop 100 Mile run down the Yukon River all the way to Dawson City. Boy, he really did earn the gold for that run. That take ssome guts, and a very very well trained dog team. Seeing the videos of how great his dogs looked, he must have sceemed and planned for this all winter long. Just to put this in perspective of other races. The same run from Eagle to Dawson is run in about 10hrs for a competitive Percy de Wolfe Team ( 9 dogs ) run in March. The Denali Doubles is 260 miles long and has 18hrs of mandatory rest. But the dogs can rest after. The Copper Basin 300 has 18 hrs of rest in 300 miles. The ultra tough Kusko 300 also travels on a river ( Kuskokwim) for most of the way and has an unprecedented 10hrs of rest for those 300 miles. And most teams are pretty tired at the end of that one. And Brent does this type of run on 8hrs of rest, right in the middle of the Yukon Quest, still having to go another 450 miles to Whitehorse. I am very certain he will keep the heat on. Most likely do 5 runs to Whitehorse. One to Scroggy, one to Pelly, each being a bit more than 100 miles. Than to Carmacks, Braeburn and the finish. So for Allen to try catch Brent with cutting rest, will be very difficult.  With Brent being able to do these " monster runs " nonstop, he has the advantage to traveling relatively light, no straw, less food for campouts, less fuel etc.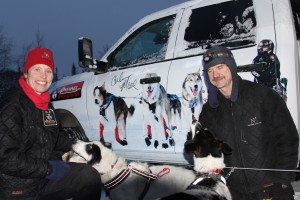 Hugh Neff ( who was also Iditarod Rookie of the year 2004 ) has been slowly falling behind the leaders each run a few more minutes, but also most of the checkpoints each dropping a dog and arriving in Dawson City with 9 dogs and one in the bag.  His runs have been nothing short but impressive also to this point.
Ken Anderson who has stared running Iditarod in 1999 and has finished all 13 races he started since than, with two 4th place finishes, I had pegged as being one of the Quest front runners. He finished 2nd to Lance in the 2008 Yukon Quest. When I ran to Circle on Birch Creek  I came upon Ken camped and passed him. Knowing I started 4hrs behind him I knew his race had gone south. He stopped n Circle for another 3hrs. The run from Central to Circle on Birch Creek took him out of contention. Ever since his has very nicely maintained his 12 dogs and I am sure Iditarod and preserving his team is on his mind most of the time. By now Ken is also several days behind Brent and Allen., yet he is running a schedule with would have secured him a top Yukon Quest position not so many years ago.
Looking at the other Iditarod Mushers in the race, Mike Ellis had to drop out in Circle City, when I talked to him his dogs had several small nagging injuries. As Mike always does what best for his team, he decided to pull out.  Curt Perrano is running a more traditional schedule of 7 on 5 off ( and that is not an easy schedule neither ) which finds him days behind the leaders and down to 10 dogs. It is even more impressive to see that Brent and Allen are not only days ahead, they are also both running 13 dogs, only having dropped one dog each. 
One thing is for certain, SP Kennels will be a main force in Iditarod and Brent will be a musher to watch for also. As Brent puts it: Wild and free baby! Enjoy the ride everyone!