While I am typing this, Jeff King is speeding along the trail with more than 10 miles an hour. Only is he speeding in the wrong direction, headed back to Pelly Crossing after an all night rest. Not being there firsthand, I can only speculate as much as anybody, that he has had enough of the cold and wants to preserve his team for his main goal, winning Iditarod. That takes one key contender out of the Quest victory equation. Another Top 5 team packed it up in Carmacks, Rookie of the Year Scott Smith. The cold and rough trail is taking a toll.
Although trail descriptions vary greatly. While some said the trail between Braeburn and Carmacks was horrible and filled with sticks and low snow, others like Allen Moore said it was a race track.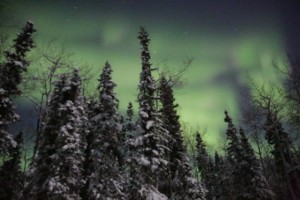 Currently all teams but one have left Pelly Crossing. This stretch to Dawson for me was always what the Yukon Quest is all about. Solitude. 210 miles no checkpoint. Just one dog drop with a ramshackle cabin and a tent. That being said the ramshackle cabin, almost as bad as Don's Cabin on Iditarod, got a major upgrade a few years back, when some Canadian Rangers and Iditarod and Quest Musher Iron Will, William Kleedehn snowmachined along the remote Pelly River to do some major building. Now Scroggy looks more the mushers Cabin in the Iditarod Checkpoint with Bunkbeds and a functional woodstove. The cabin walls from the inside serve as a checkerboard. All mushers in and out times are written down and thus permanently displayed. This is going to be a true treasure for any mushing fan in a few years down the road, just a little bit hard to get there to take a look at.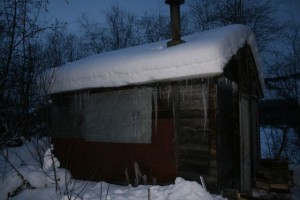 Brent Sass is out front. Way out front, after skillfully putting in two very long runs, with a 5 hr rest break in the middle. That first run took Brent all the way from Carmacks, though McCabe, through Pelly to the hospitality stop at Stepping Stone. Boy, that was a long one. Amazingly his team kept up a good pace, traveling between 8 and 9 miles an hour. Brent trained for these kind of runs. Stopping in Stepping Stone was a good move, the food is excellent there and they also have a real nice quiet place to sleep there. In a real bed…. A true treat along the trail. The next run took him past Scroggy, at the bottom of the switchbacks before Eureka Summit. Another good move in these temperatures, as Scroggy for sure would have been very cold. He also was able to grab half a bale of straw in Scroggy, so his dogs rested comfortably, yet warmer in a higher country.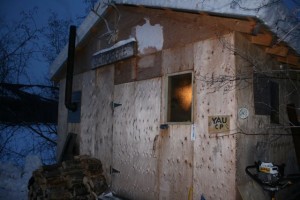 Hugh Neff is on his heels, also putting in a solid race. His running speed at this point has dropped much lower than that of Brent. A 24 hr layover in Dawson could fix that. Allen Moore is the next musher in line traveling in close proximity with Joar Leifseth Ulsom. Notably although resting more, Allen's team at this point does not have as high of a traveling speed as Brent. He is a bit faster than Hugh.
Joar having the smallest group of dogs in the Top teams, has to play it a bit more conservatively, as there is still a long trail ahead. 11 dogs does not leave that much more room for error. Ray Redington is also down to 11 dogs, while Lance still has 12 left, 12 young dogs, who have to learn the trail as they go along. Thus Lance has rested longer than he has done in the past, putting him in the middle of the pack. If these teams, who are now traveling a full run and rest cycle behind, want to catch up to the front, they would need some very big ace up their sleeve or some pretty bad weather hitting Brent in the front. That being said, Brent thrives in bad weather. The bigger question will be, can his own body hold up the pace? From looking at the tracker, Brent has tweaked his schedule from last year: Still putting in long runs, but having changed to longer breaks, mostly 5 hrs, in which he should be able to get 2.5 to 3 hrs of solid sleep. That should make a big difference, as opposed to the short breaks he took last year, where he mostly had to stay awake to work on his dogs.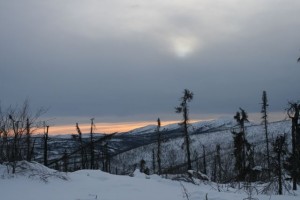 Sitting here in the warmth of my house, I sure envy the mushers out there, when it comes to the scenery. I do not envy the cold they have to endure. Climbing up Eureka Dome is spectacular. Although the top can be windblown and drifted, the views are second to none. One quickly realizes where this area has gotten its nickname of " black hills": Long valleys lined with blackspruce trees. Here and there fires have ravaged the area. Mining equipment is ever present, from the old and from the modern days. Some notorious overflow areas will make the trail interesting, as the miners keep on diverting the creeks each summer. Overflow in these temperatures are not much fun. In one of my first Quests in 2005 Lance Mackey helped me out big time. My feet and boots had gotten soaked. I was sitting next to the trail contemplating what to do about that when Lance came along and pulled out an extra pair Mukluks. From that point on, I always carried a vacuum packed extra pair of shoes too.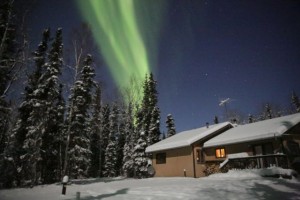 Iditarod Mushers Rob Cooke and Jason Campeau, who is attempting both races as a rookie, are still hanging in there. Jason picked a very tough year to earn his finisher patch.   While I remember Facebook posts last summer where he was vying for Rookie of the Year, those thoughts might not be on his mind right now. He will be very happy to make it to the finish line of this race. He seems to preserve his team well and is on a good run and rest schedule. During Iditarod, mushers can switch sleds. Race rules state, that a musher can send out up to 2 sleds to checkpoints along the race. While some mushers use the same sled all the way, other send a sled to McGrath and-or Unalakleet. In the Yukon Quest, that is not allowed. Jason broke a runner on his sled on the way to Pelly. Retired Iditarod Musher Jake Berkowitz ( I wonder how retired he is ? ) came along during the Q 300 and scratched to give Jason his sled so he was able to continue the Quest. Unfortunately that results in an 8 hr time penalty for Jason. Yet this is a much better alternative than having to pull out of the race entirely. I hope he looks at it from the bright side: 8 more hours in the gold rush town of Dawson City! Personally, I wish the Quest would do away with that rule and actually allow mushers to switch sleds also. Logistically it would be much easier than sending them out like in Iditarod.
Once teams reach Dawson City, they have not quite yet done halfway. It's 450 miles, and 550 to go. The actual real half way point is 40 Mile River, where mushers have 2 cabins they can stay at, either at Sebastian Jones historic old post office or at Earls a few miles upriver. Once the teams leave Dawson, the real race begins.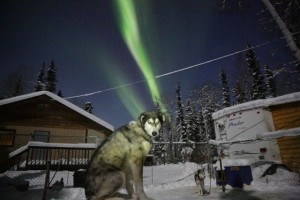 It still has not warmed up enough for my liking here in Two Rivers this morning. Still 30 below…, I guess I wait a bit with hooking up dogs and keep on watching the tracker for a while longer! Happy trails!
Sebastian