Mitch Seavey is off the sea ice and he was sure glad to be here. " Where were you today Sebastian, why did you not pass me today? " With that he means that he could have used a trailbreaker today. What Mitch did not know yet, as he will get a printed out stats sheet once he is in the checkpoint, is that he has the same fastest runtime as his son Dallas Seavey with 7 hrs 26 minutes. That is much faster than the teams ahead of him. It just seems long, and is comparatively long, as in other years teams have zipped over here in 6 hrs or even less. It will give Mitch a morale boost, once he sees the stats sheet.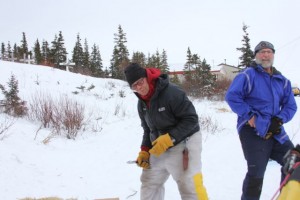 Why is Mitch faster than the other ahead of him? For one, because he rested in Shaktoolik. But also, in this case it is a good thing, that more snow machine traffic has been over the trail, The group of Norwegians following Thomas Waerner has arrived here too, us Insider guys have been back and forth. It is always luck of the draw if traffic will help a team or hinder a team.  On a hard packed trail, snow machines chew up the hard crust. On a soft trail snow machine traffic packs the trail down, but only to a certain degree. To really solidify the trail, a big temperature change from warm to cold would have to happen, and that is not in the forecast right now.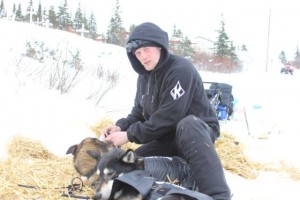 Mitch only saw his son Dallas for about 5 minutes here, as Dalles is en route to Elim, first team out and in lead of Iditarod 43.
Aliy and Dallas had a chat about their respective runs over here. Aliy was happy that she at least traveled faster than the biker guy out there ( one of the Idita Sport Participants )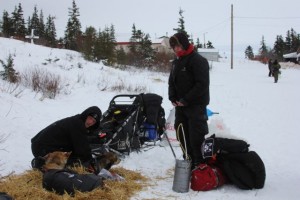 Jessie Royer was taking care of her team. It is funny (or not) that people wonder who Jessie Royer is. She has run 12 Iditarods, pretty much all of those in the Top 20 with very few exceptions. The last 3 years Aliy Zirkle has been the Top finishing woman in the race, but for the 4 years before that it was always Jessie Royer who was the top woman competitor. Aliy and Jessie will have a race within the race in Iditarod 43.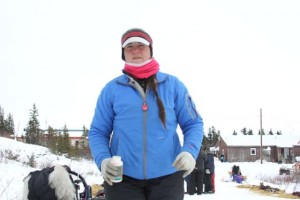 Is the race decided, with Dallas being so far out front now? All I can say is: We thought so last year in White Mountain that Jeff had it in the bag with 70 miles to go. With about 170 Miles to go from here, a lot can still happen. A 170 miles of being the first team over the trail is a tough task, even for a Dallas Seavey. Dallas dropped one dog here and is driving 11 dogs now.
We will stay for the night here and " shoot " teams as they come in, Sebastian