Leaving Unalakleet we were bracing for a windy trip to Shaktoolik. Soon after we left we caught up to Dallas Seavey. He had a hard time keeping his sled on the trail. Specially driving a tail dragger sled it gets pushed hard by side wind. Sometimes Dallas rode his brake, digging the claws into the glare ice to keep his sled from sliding too far off.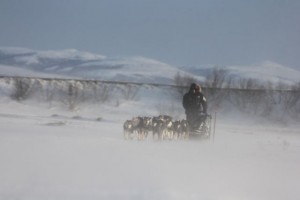 About 5 miles out the trail enters into the Blueberry Hills and it is more defined from there and easier going. The further away we got from Unk, the calmer the conditions were. Up at the foothills shelter cabin was no wind at all.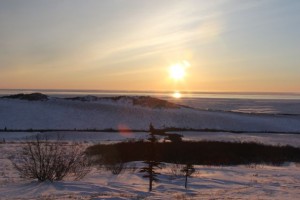 Come off Blueberry, the Shaktoolik Spit was clearly visible in the distance, a beautiful sunset to the west. Normally at the bottom is a lot of glare ice. None this year. Snow covered trails are waiting for the mushers and the winds are unusually quiet here tonight. It is nice seeing everybody including Rick Breckheimer who is normally a checker at McGrath. He has taken a flight up north to be part of the race. It is like a big family reunion.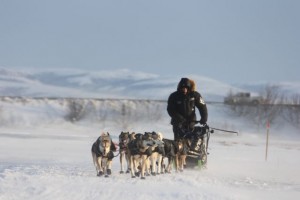 Aaron told me before I left, that he was going to stay 5 hrs. He nearly did so, shaving off 12 minutes. The race is on. Dallas will have to stop over here in Shaktoolik to get some rest. If Aaron wants to keep his advantage, he will have to skip this checkpoint to challenge Dallas. Let's see how things play out overnight. Dallas has the faster moving team. Aaron only has a chance, if he keeps up long runs, doing the " Robert Sorlie routine ".
Enjoy the shots of this beautiful ride.