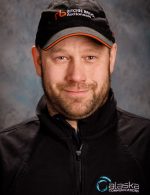 Ramey Smyth
Hometown:
Willow, Alaska
Website:
http://smythracingteam.com
There are no records for this musher during the 1999 race.
Biography
Ramey Smyth, 44, was born and raised in Alaska. He is the son of Iditarod mushers Bud Smyth, who raced in the first Iditarod and the late Lolly Medley who raced in the second Iditarod. Ramey has lived all over the state but says he moved to Willow to put down roots and build a home for his family. Ramey has raced the Iditarod 27 times placing in the top 10 eleven times. He won the Kuskokwim 300 in 1995 and has raced in, and won, many other events throughout the state. He began mushing "as soon as I could walk" and won the Jr. Iditarod twice before his first Iditarod in 1994. He is a full time log home builder and owns and operates Smyth Logwork and Construction in Willow. He says, "I am entering the Iditarod because I love working with sled dogs. Musing is a great way to connect to my historical Alaska roots and to challenge myself. My family loves sled dogs and this gives us an opportunity to work together on a common goal. Ramey operates Smyth Racing Team-Homestretch Kennel, which is 70 dogs strong, with his wife Becca Moore and their children, daughter Ava 13 years old, son Banyan 9 years and Coral,3. Ramey says his hobbies are "family, hunting and reading.