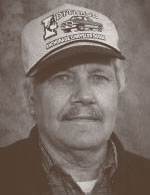 Ted English
Bib Number:
3
Hometown:
Willow, Alaska
Biography
Ted English, 68, was born in Alabama on Christmas Day. He came to Alaska in 1974. He started mushing in 1976. He says he has run the Iditarod too many times to count.
Ted is married to Paula and is the father of five adult children, Cindy, Cassandra, Michael, Victoria and Rachel; thirteen grandchildren and eleven great-grandchildren.
Ted lists his present occupation as musher and his hobby as dogs.
2003 Standings
Checkpoint
Time In
Dogs In
Time Out
Dogs Out
Rest Time
Previous
Layover
Status
Distance
Enroute Time
Speed (mph)
8hr
24hr
Anchorage
3/01 10:04:00
10
Campbel Airstrip (BLM)
3/01 11:05:00
10
1h 1m
Ruby
3/03 10:02:00
16
317
Galena
3/03 16:30:00
16
3/03 21:16:00
14
4h 46m
6h 28m
8.04
52
Nulato
3/04 10:36:00
14
3/04 15:50:00
12
5h 14m
13h 20m
3.90
52
Kaltag 1
3/05 02:15:00
12
3/06 05:31:00
12
27h 16m
10h 25m
4.03
42
Eagle Island 1
3/07 03:07:00
12
3/07 10:38:00
10
7h 31m
21h 36m
3.24
70
Grayling 1
3/07 17:38:00
10
7h 0m
8.57
Scratched
60