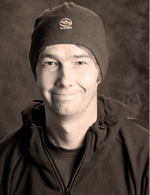 Biography
Pat Moon, 35, was born and raised in Chicago, Illinois. He graduated from Loyola University Chicago in 1998 with a Bachelor of Business Administration in Public Relations. He works for Double Up Farms, a niche landscaping service in the Chicago area. He and his wife, Melanie, have been married for seven years and love to travel and share adventures. Pat had always followed the Iditarod while growing up and was introduced to the experience in person through the Idita-Rider program in 2006.
At the age of 15, Pat was diagnosed with ulcerative colitis, an auto immune disease that targets the intestines and kidneys. Although afflicted with these health issues, he does not allow it to curtail his life or activities. When asked about running the Iditarod, Pat says, "Although having an illness is physical, being sick is a state of mind."
Throughout his life, Pat has had an adventurous spirit, which has taken him on treks around the globe. He has lived on a cattle ranch in Kansas, traveled through Europe and canoed the Amazon River with his wife. In his spare time, he enjoys playing with his two cats, Oscar and Tigger, and the family dogs, Annie and Hera.
Pat says that the friendships that have been started through the Iditarod experience have enabled him to travel the world over, meeting some of the most genuine and nicest people on the globe. Through dog racing, he has had the privilege to visit: Kostroma, Russia Halliburton, Ontario and most recently, Kincardin-Oneil, Scotland.
Pat would like to thank his sponsors, family and friends for their unwavering support. He thanks is Mom for supporting him, no matter what crazy idea he has come up with. Pat also says that he could not have even thought about attaining this dream without the love and overwhelming support of his wife, Melanie. "I love you, Mel!"
Pat says his hobbies are gardening, fishing, and canoeing.
Sponsors
Richards Excavating, IL
Double Up Farms, IL
Nature's Kennel, MI
LOKI, LLC.
Chempetitive Group
State Senator Dan Kotowski, IL
Union State Bank, KS
Leading Edge Automotive, IL
Pick & Amedeo, DDS, Ltd, IL
Edward Jones Investing/Paul Armstrong, IL
Kathy Murphy State Farm Insurance, IL
JSF Contractors, Inc, IL
Cub Scout Pack 24, IL
The Andrea & Dave Richards Family
The Slabinger Family
Dogbooties.com
Great Lakes Geo Science
Concourse Medical Association, Ltd.
Field School
Robert & Mary Reter
The Beans Family
Carlotta Stather
Kathy Moon

Billy Pawelko
Christine Smith
Jan Lloyd-Gohl
The Fisher Family
The Connor Family
Cyndi Thomas
Emma Gregorski
Hannah Moon
Brenna Gregorski
Steven Brown
The Nagai Family
GO Athletic Apparel
Mr. & Mrs. David Richards
The Baker Family
Mike and Kristen Richards
Greg Ambrose
Joyce & Steve Tchozeski
Julie Benda
Captain Mike Loeffler
Krister Raasoch
Dr. H. Edward Klemptner
The Garcia Family
2010 Standings
Checkpoint
Time In
Dogs In
Time Out
Dogs Out
Rest Time
Previous
Layover
Status
Distance
Enroute Time
Speed (mph)
8hr
24hr
Anchorage
3/06 10:35:00
12
Willow
3/07 14:30:00
15
Yentna Station
3/07 18:20:00
15
3/07 18:28:00
15
0h 8m
3h 50m
11.74
45
Skwentna
3/08 00:39:00
15
3/08 07:28:00
15
6h 49m
6h 11m
5.50
34
Finger Lake
3/08 13:13:00
15
3/08 18:17:00
15
5h 4m
5h 45m
7.83
45
Rainy Pass
3/08 22:32:00
15
4h 15m
7.06
Scratched
30