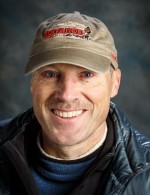 Roger Lee
Bib Number:
10
Hometown:
Birkenhead, Wirral, ENGLAND
Biography
Roger Lee, 53, was born in California to British parents and raised in Birkenhead, near Liverpool, England. As a British Army Air Corps soldier, Roger was called to travel and adventure. He spent winters travelling Europe competing with his unit's ski racing teams, training in Arctic Warfare survival skills, and leading ski trips for the Ski Club of Great Britain.
In 1990, after serving England for 10 years, he headed to the US where his Air Force career began with the Air National Guard. His time in the Alaska 210th Search and Rescue and Elmendorf Air Force Base 3rd Wing introduced him to Alaskan adventures and skijoring. His Iditarod dream was born after meeting DeeDee Jonrowe during a dog care presentation at an Anchorage Skijor Club meeting.
Utilizing the GI Bill, Roger earned a Masters Degree in Environmental Engineering from the University of Alaska-Anchorage. He was commissioned as a USAF active duty officer in 2003 and assigned to the lower 48. But, he held on to his dream. He became an Iditarod dog handler in 2006 and has been involved in the Last Great Race® ever since. In 2012, he met Scott Janssen, "the Mushing Mortician", and the two struck up a conversation over their love for The Beatles and rock music. Since 1979, Roger has followed metal groups around the globe, including 157 AC/DC shows in 16 countries!
This year, Roger heads to the trail with Team Janssen—Scott, Anna & Kristy Berington—through the support of his wife, Camille, their Alaskan family Ron and Mel Stokes, the Johnson crew and countless other family, friends and colleagues that have helped build his dream into a reality.
Currently, Roger is on an inaugural USAF sabbatical – allowing him one year to train full-time for the Iditarod. After the Iditarod, he returns to active duty as a US Air Force, Biomedical Sciences Corps, Bioenvironmental Engineering Lieutenant Colonel.
Sponsors
Ron & Mel Stokes
Restoration Science & Engineering
Air Force Reserve
Mrs. Pops 'Pat' Lee
2017 Standings
Checkpoint
Time In
Dogs In
Time Out
Dogs Out
Rest Time
Previous
Layover
Status
Distance
Enroute Time
Speed (mph)
8hr
24hr
Fairbanks
3/06 11:16:00
16
Nenana
3/06 17:47:00
16
3/06 18:06:00
16
0h 19m
6h 31m
9.21
60
Manley
3/07 20:49:00
16
3/08 03:56:00
16
7h 7m
26h 43m
3.37
90
Tanana
3/08 14:48:00
16
3/09 06:21:00
12
15h 33m
10h 52m
6.07
66
Ruby
3/10 09:28:00
12
3/10 17:47:00
12
8h 19m
27h 7m
4.39
119
Galena
3/11 00:42:00
12
3/12 04:10:00
12
26h 28m
6h 55m
7.23
50
Huslia
3/12 20:04:00
12
3/13 01:43:00
12
5h 39m
15h 54m
5.16
82
Koyukuk
3/13 22:38:00
12
3/13 22:52:00
12
0h 14m
20h 55m
4.11
86
Nulato
3/14 01:16:00
12
3/14 10:44:00
12
9h 28m
2h 24m
9.17
22
Kaltag
3/14 14:55:00
12
3/14 17:12:00
10
2h 17m
4h 11m
11.24
47
Unalakleet
3/15 11:30:00
10
3/15 19:05:00
9
7h 35m
18h 18m
4.64
85
Shaktoolik
3/16 12:30:00
9
17h 25m
2.30
Scratched
40