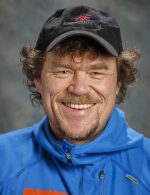 Biography
Lars Monsen will be 60 years old in April 2023. He has been a full-time adventurer for more than 30 years. He has spent more than 5,000 nights in a sleeping bag, more than half in winter often in extreme conditions. He loves fishing, chess, music and mushing–and of course his wife, singer and artist Trine Rein.
His expeditions include Across Canada on foot, in a canoe and on a dog sled for 947 consecutive days, 10 months on foot Across Alaska, 365 days Across Norway, 365 days in the north of Scandinavia and many expeditions lasting 30-90 days in Alaska, Canada, Norway, Sweden and Finland.
Lars Monsen has written approximately 20 wildlife and survival books, he has led 15 national TV series (NRK) and he has given hundreds of talks and presentations. He fought Lyme Disease for 2.5 years and survived. He has his own outdoor gear and clothing brand, simply branded Lars Monsen, available in 100 stores in Norway. His motto is "Anything is possible!".
Sponsors
Scandinavias best online shop for outdoors people: www.komplettfritid.no
VOM Frozen Meat Dog Food
Purina Pro Plan Kibble
Dr. Baddakys Fish Oil
Polaris Norway ATVs
2018 Standings
Checkpoint
Time In
Dogs In
Time Out
Dogs Out
Rest Time
Previous
Layover
Status
Distance
Enroute Time
Speed (mph)
8hr
24hr
Willow
3/04 15:58:00
16
Yentna
3/04 19:43:00
16
3/04 19:45:00
16
0h 2m
3h 45m
11.20
42
Skwentna
3/04 22:52:00
16
3/05 02:56:00
15
4h 4m
3h 7m
9.63
30
Finger Lake
3/05 08:16:00
15
3/05 08:20:00
15
0h 4m
5h 20m
7.50
40
Rainy Pass
3/05 17:09:00
15
3/05 17:14:00
15
0h 5m
8h 49m
3.40
30
Rohn
3/05 21:27:00
15
3/06 02:42:00
15
5h 15m
4h 13m
8.30
35
Nikolai
3/06 11:51:00
15
3/06 18:46:00
15
6h 55m
9h 9m
8.20
75
McGrath
3/07 01:32:00
15
3/07 01:33:00
15
0h 1m
6h 46m
7.09
48
Takotna
3/07 04:15:00
15
3/07 11:01:00
15
6h 46m
2h 42m
6.67
18
Ophir
3/07 13:58:00
15
3/07 14:05:00
15
0h 7m
2h 57m
7.80
23
Iditarod
3/08 05:16:00
15
3/09 05:30:00
15
24h 14m
15h 11m
5.27
80
Shageluk
3/09 13:50:00
15
3/09 17:30:00
15
3h 40m
8h 20m
6.60
55
Anvik
3/09 21:32:00
15
3/09 21:35:00
15
0h 3m
4h 2m
6.20
25
Grayling
3/10 00:27:00
15
3/10 08:37:00
14
8h 10m
2h 52m
6.28
18
Kaltag
3/11 09:55:00
14
3/11 18:22:00
12
8h 27m
24h 18m
5.02
122
Unalakleet
3/12 08:05:00
12
3/12 11:04:00
11
2h 59m
13h 43m
6.20
85
Shaktoolik
3/12 17:32:00
11
3/12 22:43:00
10
5h 11m
6h 28m
6.19
40
Koyuk
3/13 07:34:00
10
3/13 13:50:00
10
6h 16m
8h 51m
5.65
50
Elim
3/13 21:05:00
10
3/14 02:00:00
10
4h 55m
7h 15m
6.62
48
White Mountain
3/14 09:09:00
10
3/14 17:15:00
9
8h 6m
7h 9m
6.43
46
Safety
3/14 23:43:00
9
3/14 23:44:00
9
0h 1m
6h 28m
8.51
55
Nome
3/15 02:38:03
9
2h 54m
7.59
22