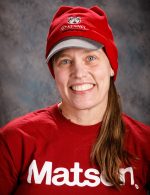 Biography
Aliy Zirkle, 49, was born in New Hampshire and was raised in New Hampshire, Puerto Rico, St. Louis and Pennsylvania. She graduated with a degree in biology from the University of Pennsylvania. When she was in her early 20's, she moved to a small Alaskan town north of the Arctic Circle. During her first winter, she adopted six huskies, built a dog sled and explored the surrounding wilderness with her dog team. The challenges of this first winter taught her many of the skills that she uses today.
This solitary, independent, wilderness lifestyle that Aliy fell in love 25 years ago has now ironically, thrown her into the media spotlight. While she has had many successes in her dog mushing career, she has also had notable disappointments. Aliy finished 2nd place in the Iditarod three times in a row. She is the first, and only, woman to win the Yukon Quest (a 1,000 mile remote mushing adventure race.)
Aliy and her husband, Allen Moore, an Iditarod veteran and Yukon Quest winner, own and operate SP Kennel – a premier sled dog kennel in Two Rivers, Alaska. They strive to be the best they can through complete dedication to their canine teammates and to the sport. They are also committed to the Alaskan community that has given them unwavering support and incredible encouragement through the years. Aliy's life has revolved around dogs for many years. She says they are the center focus of pretty much all that she and Allen do. She also loves coffee and says grinding and brewing the perfect cup every morning makes her happy!
Sponsors
Matson
head-lites.com
Comfort Inn Ship Creek, Anchorage
Kenai Satellite Phone
Leslie Dean/Don Hopwood
Verizon Wireless
Bob Huston

Pleasant Valley Store/Trailside Mail
Howling Dog Alaska, KS
T Rose Vet Service
North Pole Vet Hospital
Lynne Danielsonm, WA
Tom/Cindy Eckhoff, PA
SPK Dog Sponsor & Team Members
Awards
Humanitarian


2018 Standings
Checkpoint
Time In
Dogs In
Time Out
Dogs Out
Rest Time
Previous
Layover
Status
Distance
Enroute Time
Speed (mph)
8hr
24hr
Willow
3/04 14:58:00
16
Yentna
3/04 18:50:00
16
3/04 18:51:00
16
0h 1m
3h 52m
10.86
42
Skwentna
3/04 22:29:00
16
3/05 02:00:00
16
3h 31m
3h 38m
8.26
30
Finger Lake
3/05 06:53:00
16
3/05 06:58:00
16
0h 5m
4h 53m
8.19
40
Rainy Pass
3/05 15:47:00
16
3/05 15:53:00
16
0h 6m
8h 49m
3.40
30
Rohn
3/05 20:15:00
16
3/05 20:35:00
16
0h 20m
4h 22m
8.02
35
Nikolai
3/06 11:00:00
16
3/06 15:06:00
15
4h 6m
14h 25m
5.20
75
McGrath
3/06 22:51:00
15
3/06 22:53:00
15
0h 2m
7h 45m
6.19
48
Takotna
3/07 01:46:00
15
3/08 03:00:00
15
25h 14m
2h 53m
6.24
18
Ophir
3/08 05:38:00
15
3/08 05:47:00
15
0h 9m
2h 38m
8.73
23
Iditarod
3/08 20:13:00
15
3/09 00:21:00
14
4h 8m
14h 26m
5.54
80
Shageluk
3/09 08:52:00
14
3/09 16:53:00
14
8h 1m
8h 31m
6.46
55
Anvik
3/09 20:38:00
14
3/09 20:38:00
14
0h 0m
3h 45m
6.67
25
Grayling
3/09 23:45:00
14
3/10 05:39:00
13
5h 54m
3h 7m
5.78
18
Kaltag
3/11 05:12:00
13
3/11 10:32:00
13
5h 20m
22h 33m
5.41
122
Unalakleet
3/12 01:16:00
13
3/12 06:14:00
10
4h 58m
14h 44m
5.77
85
Shaktoolik
3/12 12:41:00
10
3/12 18:02:00
10
5h 21m
6h 27m
6.20
40
Koyuk
3/13 03:07:00
10
3/13 09:14:00
10
6h 7m
9h 5m
5.50
50
Elim
3/13 16:25:00
10
3/13 20:26:00
10
4h 1m
7h 11m
6.68
48
White Mountain
3/14 03:59:00
10
3/14 11:59:00
10
8h 0m
7h 33m
6.09
46
Safety
3/14 18:43:00
10
3/14 18:45:00
10
0h 2m
6h 44m
8.17
55
Nome
3/14 21:42:22
10
2h 57m
7.46
22