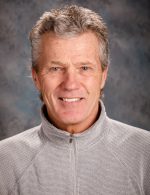 Linwood Fiedler
Bib Number:
8
Hometown:
Willow, Alaska
Website:
http://None
Biography
Linwood Fiedler, 65, was born in Vermont. He received his BSW at Carroll College in Helena, Montana.
He began mushing in Montana in 1997 and moved to Alaska "to race the Iditarod and raise my family" in 1990. He has run 24 Iditarods, placing in the top ten several times and was a second place finisher in 2001.
For the last 19 years he has owned and operated, with his son, Dalton, Alaska Heli-Mush, Inc., an exciting glacier sled dog tour business on the Juneau Icefield .
He is also the co-founder of Arctic Paws for Service, a service dog organization assisting Alaskan families experience the healing powers of service dogs.
Linwood says, "Mushing is what surrounds our life at the Fiedler home. I've been fortunate to have the support of the best wife and family a person could ask for. After many runs to Nome with the hardships and victories it has brought me, it's always been the love of my family and the connection I have with my dogs that get me through."
2018 Standings
Checkpoint
Time In
Dogs In
Time Out
Dogs Out
Rest Time
Previous
Layover
Status
Distance
Enroute Time
Speed (mph)
8hr
24hr
Willow
3/04 14:12:00
16
Yentna
3/04 18:01:00
16
3/04 18:05:00
16
0h 4m
3h 49m
11.00
42
Skwentna
3/04 22:39:00
16
3/04 22:45:00
16
0h 6m
4h 34m
6.57
30
Finger Lake
3/05 03:43:00
16
3/05 08:03:00
16
4h 20m
4h 58m
8.05
40
Rainy Pass
3/05 11:32:00
16
3/05 16:10:00
15
4h 38m
3h 29m
8.61
30
Rohn
3/05 20:13:00
15
3/06 00:44:00
15
4h 31m
4h 3m
8.64
35
Nikolai
3/06 09:41:00
15
3/06 15:43:00
15
6h 2m
8h 57m
8.38
75
McGrath
3/06 22:46:00
15
3/06 22:48:00
15
0h 2m
7h 3m
6.81
48
Takotna
3/07 01:18:00
15
3/08 03:26:00
15
26h 8m
2h 30m
7.20
18
Ophir
3/08 05:50:00
15
3/08 06:02:00
15
0h 12m
2h 24m
9.58
23
Iditarod
3/08 18:59:00
15
3/09 00:09:00
14
5h 10m
12h 57m
6.18
80
Shageluk
3/09 08:01:00
14
3/09 16:01:00
13
8h 0m
7h 52m
6.99
55
Anvik
3/09 19:36:00
13
3/09 19:48:00
13
0h 12m
3h 35m
6.98
25
Grayling
3/09 22:40:00
13
3/10 07:34:00
13
8h 54m
2h 52m
6.28
18
Kaltag
3/11 04:53:00
13
3/11 10:31:00
13
5h 38m
20h 19m
6.00
122
Unalakleet
3/11 22:08:00
13
3/12 04:44:00
12
6h 36m
11h 37m
7.32
85
Shaktoolik
3/12 10:38:00
12
3/12 14:22:00
11
3h 44m
5h 54m
6.78
40
Koyuk
3/12 23:28:00
11
3/13 07:30:00
11
8h 2m
9h 6m
5.49
50
Elim
3/13 14:10:00
11
3/13 14:13:00
11
0h 3m
6h 40m
7.20
48
White Mountain
3/13 22:13:00
11
3/14 06:17:00
10
8h 4m
8h 0m
5.75
46
Safety
3/14 13:20:00
10
3/14 13:21:00
10
0h 1m
7h 3m
7.80
55
Nome
3/14 16:27:54
10
3h 6m
7.10
22