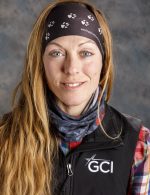 Biography
Kristy Berington, 38, operates Seeing Double Sled Dog Racing with her twin sister Anna, and her husband, Andy Pohl in Knik, Alaska. Mushing dogs has become part of family life. Andy races and trains the dogs, Kat Berington manages their website, Vicki Pohl sews harnesses and dog coats, Ray Pohl runs trail support, and the entire family supports and sponsors from the sideline all the way from Wisconsin to South Carolina. This is Kristy's 14th running of the Iditarod. She moved to Alaska 14 years ago to learn more about mushing from 1984 Iditarod Champion Dean Osmar in Kasilof. Since then she has raced all over Alaska and into Canada competing in the Yukon Quest, Kusko 300 and Copper Basin 300, just to name a few. "I love endurance sports and adventure!" says the ultra-athlete. "What better way to combine those two factors than running sled dogs in the most beautiful place in the world." Never sitting still, in the off season Kristy competes in many running races from half marathons to ultra-distances and triathlons with Anna. "Anna and I are always in friendly competition. I'm so proud of her in her mushing and athletic career. And to be a part of it all with her is amazing." Kristy and Anna pay the bills by doing carpentry work and landscaping. "Thank you to the many fans, friends, family, volunteers and sponsors for making all of this possible. We couldn't do this without you!" "I'm looking forward to running another Iditarod with my incredible canine athletes! Best of luck to all the mushers and their amazing dogs." Kristy lists her hobbies as running, cycling, hiking, keeping up with her husband and canicross.
SPONSORS:
GCI
Polar Asset Management Partners
NTI
Mikes Welding and Fabrication
Alaska Trauma and Acute Care Surgery
ScoopUp Landscaping & Wolverine Contracting
GBA Corona
Kat Berington
Chuck Zucker
Idea Design Studio
Borealis Veterinary Clinic
Alaska Missions
David Greenwood
Friends, Fans and Family
Sponsors
Polar Asset Management Partners, Toronto, ONT, CANADA
Michael/Katie Montano
Ann Cox
Kay Polk
Kat Berington
Captain Tom Bathey
Dean Osmar
Team Redington
Non-Stop Dogwear
Dr. Carson's All Natural Products

Seafur Sewing
Janssen Funeral Homes
ECR International, Boiler Mag
Dunkirk
GBA Corona
Halliburton
Alaska Trauma and Acute Care
Northern Edge Physical Therapy
Many friends and Family.
2018 Standings
Checkpoint
Time In
Dogs In
Time Out
Dogs Out
Rest Time
Previous
Layover
Status
Distance
Enroute Time
Speed (mph)
8hr
24hr
Willow
3/04 14:36:00
16
Yentna
3/04 18:36:00
16
3/04 18:42:00
16
0h 6m
4h 0m
10.50
42
Skwentna
3/05 01:45:00
16
3/05 01:49:00
16
0h 4m
7h 3m
4.26
30
Finger Lake
3/05 07:16:00
16
3/05 11:36:00
15
4h 20m
5h 27m
7.34
40
Rainy Pass
3/05 15:31:00
15
3/05 19:27:00
15
3h 56m
3h 55m
7.66
30
Rohn
3/05 23:38:00
15
3/06 04:00:00
15
4h 22m
4h 11m
8.37
35
Nikolai
3/06 18:17:00
15
3/06 23:26:00
15
5h 9m
14h 17m
5.25
75
McGrath
3/07 06:19:00
15
3/07 12:18:00
15
5h 59m
6h 53m
6.97
48
Takotna
3/07 15:00:00
15
3/07 15:05:00
15
0h 5m
2h 42m
6.67
18
Ophir
3/07 18:03:00
15
3/08 20:45:00
13
26h 42m
2h 58m
7.75
23
Iditarod
3/09 15:03:00
13
3/09 21:24:00
13
6h 21m
18h 18m
4.37
80
Shageluk
3/10 08:30:00
13
3/10 15:32:00
13
7h 2m
11h 6m
4.95
55
Anvik
3/10 19:09:00
13
3/10 19:11:00
13
0h 2m
3h 37m
6.91
25
Grayling
3/10 22:06:00
13
3/11 10:20:00
13
11h 14m
2h 55m
6.17
18
Kaltag
3/12 08:04:00
13
3/12 15:16:00
12
7h 12m
21h 44m
5.61
122
Unalakleet
3/13 08:46:00
12
3/13 14:15:00
12
5h 29m
17h 30m
4.86
85
Shaktoolik
3/13 20:45:00
12
3/14 03:30:00
12
6h 45m
6h 30m
6.15
40
Koyuk
3/14 11:11:00
12
3/14 18:20:00
12
7h 9m
7h 41m
6.51
50
Elim
3/15 01:03:00
12
3/15 07:23:00
11
6h 20m
6h 43m
7.15
48
White Mountain
3/15 13:30:00
11
3/15 21:42:00
10
8h 12m
6h 7m
7.52
46
Safety
3/16 04:13:00
10
3/16 04:15:00
10
0h 2m
6h 31m
8.44
55
Nome
3/16 07:08:55
10
2h 53m
7.63
22