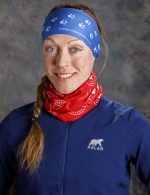 Biography
Anna Berington, 37, has been loving life in Alaska since 2007 racing sled dogs, commercial fishing, building and constructing homes, landscaping and competing in running races. With her sister, they are Seeing Double Sled Dog Racing. Being able to raise and train dogs together has been a dream come true, and racing the Iditarod is a perfect fit for these endurance racers. These dreams have been made possible because of help and support from friends, family and sponsors. Anna started mushing when she was only nine years old. The twins have come a long way from mushing their pet dog in Wisconsin to giving tourists rides in the Sierras, to training with former champion Dean Osmar, and many mushing friends like Scott Janssen here in Alaska. Now dog mushing is a family affair with visits and help from Mom, Dad, and sister Kat, and of course their fur children, 30 amazing dogs! Anna lists her hobbies as running, triathlon, biking, swimming, canicross and skiing.
SPONSORS:
GCI
Polar Asset Management Team
Janssen Funeral Homes
Polaris
Alaska Trauma & Acute Care Surgery
GBA Corona
Mike's Welding and Fabrication
Alaska Meat Packers Inc
Borealis Veterinary Clinic
10th & M Seafoods
Halliburton
Rob Donaldson
Kay Polk
David Green
Chuck Zucker
Tom Bathey & Crew
NTI
ADEY
Max Katenhus & Family
Dr. Micheal Mccallion
Kay Berington
Mom
Andy Pohl
Vicki Pohl
The Knolmayer family
Grizzly Grounds
Aaron Anderson
Sponsors
Polar Asset Management Partners, Toronto, ONT, CANADA
Michael/Katie Montano
Ann Cox
Kay Polk
Kat Berington
Captain Tom Bathey
Dean Osmar
Team Redington
Non-Stop Dogwear
Dr. Carson's All Natural Products

Seafur Sewing
Janssen Funeral Homes
ECR International, Boiler Mag
Dunkirk
GBA Corona
Halliburton
Alaska Trauma and Acute Care
Northern Edge Physical Therapy
Many friends and Family.
2018 Standings
Checkpoint
Time In
Dogs In
Time Out
Dogs Out
Rest Time
Previous
Layover
Status
Distance
Enroute Time
Speed (mph)
8hr
24hr
Willow
3/04 14:04:00
16
Yentna
3/04 18:02:00
16
3/04 18:08:00
16
0h 6m
3h 58m
10.59
42
Skwentna
3/05 01:06:00
16
3/05 01:11:00
16
0h 5m
6h 58m
4.31
30
Finger Lake
3/05 06:25:00
16
3/05 10:08:00
15
3h 43m
5h 14m
7.64
40
Rainy Pass
3/05 14:43:00
15
3/05 18:30:00
13
3h 47m
4h 35m
6.55
30
Rohn
3/05 22:58:00
13
3/06 02:55:00
13
3h 57m
4h 28m
7.84
35
Nikolai
3/06 15:45:00
13
3/06 20:46:00
13
5h 1m
12h 50m
5.84
75
McGrath
3/07 03:40:00
13
3/07 08:30:00
13
4h 50m
6h 54m
6.96
48
Takotna
3/07 10:55:00
13
3/07 11:00:00
13
0h 5m
2h 25m
7.45
18
Ophir
3/07 14:07:00
13
3/08 16:15:00
12
26h 8m
3h 7m
7.38
23
Iditarod
3/09 06:14:00
12
3/09 11:11:00
12
4h 57m
13h 59m
5.72
80
Shageluk
3/09 19:42:00
12
3/10 03:50:00
12
8h 8m
8h 31m
6.46
55
Anvik
3/10 07:14:00
12
3/10 07:21:00
12
0h 7m
3h 24m
7.35
25
Grayling
3/10 09:42:00
12
3/10 15:28:00
11
5h 46m
2h 21m
7.66
18
Kaltag
3/11 14:10:00
11
3/11 21:00:00
11
6h 50m
21h 42m
5.62
122
Unalakleet
3/12 13:29:00
11
3/12 19:45:00
10
6h 16m
16h 29m
5.16
85
Shaktoolik
3/13 01:41:00
10
3/13 10:32:00
10
8h 51m
5h 56m
6.74
40
Koyuk
3/13 18:24:00
10
3/14 01:09:00
10
6h 45m
7h 52m
6.36
50
Elim
3/14 07:50:00
10
3/14 13:09:00
10
5h 19m
6h 41m
7.18
48
White Mountain
3/14 19:26:00
10
3/15 03:26:00
10
8h 0m
6h 17m
7.32
46
Safety
3/15 10:00:00
10
3/15 10:03:00
10
0h 3m
6h 34m
8.38
55
Nome
3/15 12:44:20
10
2h 41m
8.20
22