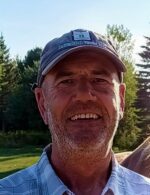 Biography
Gerhardt Thiart was born and raised near Cape Town, South Africa. After graduating from high school he joined the military where he obtained the rank of 1st Lieutenant Platoon Commander in the SADF Infantry with several tours under his belt. After military he joined a restaurant group where he met Al-Jo. AJ for short. They got married in 2003. In 2002 they became friends with André and Natalie van der Merwe, reputable and respected Siberian breeders. Gerhardt and AJ fell in love with the breed and got three. Being working dogs, they got the carts, the scooters, harnesses and other stuff and exercised their three Siberians on dirt farm roads under the guidance of André and Natalie. Gerhardt was introduced to the Iditarod through André. Gerhardt ordered his first Iditarod documentary in 2002. It was the beginning of the end. They were hooked. Gerhardt told his wife that he wanted to do the Iditarod "one day".
Pursuing their Iditarod dream, they packed their bags, jumped the cliff and came to the United States in 2010 where they worked as handlers at a sled dog kennel in Michigan. To add more weight and credibility to their Green Card application, Gerhardt went back to school. Twice. In 2017 he graduated with a degree in Business Management and in 2019 he graduated with a degree in Financial Accounting. AJ graduated as a Veterinary Assistant in 2015.
In 2020 their Green Cards were approved and they moved to Alaska in the fall of 2020. In the winter of 2021 Gerhardt did all three of his qualifiers (Copper Basin 300, Willow 300 and Denali 200) under the guidance and watchful eye of Mitch Seavey, his mentor and coach.
In 2022 a 20-year dream came true. Gerhardt ran Mitch Seavey's puppy team. Fifty miles from Nome, his race got short winded by hurricane arctic winds and a broken ankle. His words: "I froze my butt off for 12 days and all I needed was six more hours. Right place, wrong time. This is the Iditarod."
Now, Gerhardt has "UNFINISHED BUSINESS" for Iditarod 2023.
Gerhardt is the Executive Director of GAT FOUNDATION Inc. GAT FOUNDATION partnered with TUSK.ORG to support, bring awareness, promote, and raise funds for Wildlife Conservation in Africa with specific attention to the working and tracking canines of the African Wildlife Rangers.
AFRICA TO ALASKA IDITAROD 2023
"UNFINISHED BUSINESS"
For Dogs – With Dogs
SPONSORS:
Mitch & Janine Seavey
Seavey's Iditarod Racing Team
Craig Carter & Brenda McCann
Larry Daugherty
CTC Dog Gear USA
2023 Standings
Checkpoint
Time In
Dogs In
Time Out
Dogs Out
Rest Time
Previous
Layover
Status
Distance
Enroute Time
Speed (mph)
8hr
24hr
Willow
3/05 14:40:00
14
Yentna
3/05 18:48:00
14
3/05 18:54:00
14
0h 6m
4h 8m
10.16
42
Skwentna
3/06 01:03:00
14
3/06 06:23:00
14
5h 20m
6h 9m
4.88
30
Finger Lake
3/06 11:06:00
14
3/06 16:18:00
13
5h 12m
4h 43m
8.48
40
Rainy Pass
3/06 19:45:00
13
3/07 01:14:00
13
5h 29m
3h 27m
8.70
30
Rohn
3/07 05:03:00
13
3/07 11:10:00
13
6h 7m
3h 49m
9.17
35
Nikolai
3/08 00:01:00
13
3/08 06:00:00
13
5h 59m
12h 51m
5.84
75
McGrath
3/08 12:11:00
13
3/09 12:42:00
13
24h 31m
6h 11m
7.76
48
Takotna
3/09 14:45:00
13
3/09 14:46:00
13
0h 1m
2h 3m
8.78
18
Ophir
3/09 17:11:00
13
3/09 22:55:00
13
5h 44m
2h 25m
9.52
23
Iditarod
3/10 14:18:00
13
3/10 20:34:00
12
6h 16m
15h 23m
5.20
80
Shageluk
3/11 03:45:00
12
3/11 11:55:00
11
8h 10m
7h 11m
7.66
55
Anvik
3/11 15:03:00
11
3/11 15:05:00
11
0h 2m
3h 8m
7.98
25
Grayling
3/11 17:24:00
11
3/11 22:46:00
11
5h 22m
2h 19m
7.77
18
Eagle Island
3/12 06:27:00
11
3/12 12:00:00
11
5h 33m
6h 41m
9.28
62
Kaltag
3/12 22:19:00
11
3/13 07:07:00
11
8h 48m
10h 19m
5.82
60
Unalakleet
3/13 19:44:00
11
3/14 02:34:00
10
6h 50m
12h 37m
6.74
85
Shaktoolik
3/14 08:13:00
10
3/15 12:52:00
10
28h 39m
5h 39m
7.08
40
Koyuk
3/15 18:42:00
10
3/15 23:53:00
10
5h 11m
5h 50m
8.57
50
Elim
3/16 05:51:00
10
3/16 12:05:00
10
6h 14m
5h 58m
8.04
48
White Mountain
3/16 17:36:00
10
3/17 02:40:00
10
9h 4m
5h 31m
8.34
46
Safety
3/17 09:07:00
10
3/17 09:09:00
10
0h 2m
6h 27m
8.53
55
Nome
3/17 12:00:26
10
2h 51m
7.72
22